Can you really make $500+ the next day after spending 17 minutes setting up a built-for-you system? Is Tube Profit Sniper a scam or legit opportunity?
You'll want to finish reading this no holds barred review of Tube Profit Sniper that I've made.
Trust me, it's for your sake rather than mine.
Because it's easy to be tempted to sign up and part with your money for the promise of a get-rich-quick scheme. Sure, the video mentions that it's not a get rich quick program and you'll probably never be a millionaire.
Making $500 per day is an extremely attractive promise for most of us. It's understandable that you'll want to give it a try. But the fact that you're reading this review means you're being wise with your money, and you'll appreciate the truth about Tube Profit Sniper that I'm going to reveal.
It's not that it is impossible to make $500 a day with Youtube or any other online medium. It's just that you wouldn't get anywhere close the next day after you've signed up for whatever it is in the program.
At the end of this review, I will let you the program that I'm using and has enabled me to generate passive income online. There are no unrealistic promises in the program that I've used but it works if you put all your effort into it.
What Is Tube Profit Sniper?
When you ended at the landing page of Tube Profit Sniper, you'll be greeted by an enlarged text that screamed: "$2,293.26 DAILY From YouTube!". You'll then be spending at least 20 minutes, watching a video presentation that tries to sell you the program itself.
Here's a quick look at the Tube Profit Sniper.
Name: Tube Profit Sniper
Owner: Mike Andrew
Website: tubeprofitsniper.com
Price: $9
OutrankLab Rating: 2/10
That's right. I gave it a misery 2 rating, and to be frank, Tube Profit Sniper smells everything like a scam to me. The video started off with bold claims of how people are generating more than $500 per day using the program.
There are also live video of testimonials of people who claimed to have used the program. But I doubt they are actual users with real results and I'll show you why later. After sitting through a few more minutes of how the owner, Mike Andrew claimed of making $180,000 with the program, you are being greeted by visuals of income reports, such as this.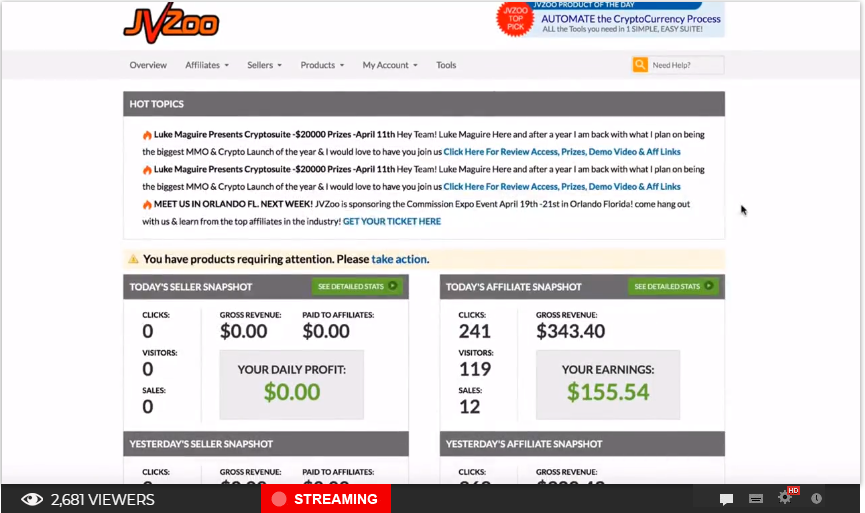 Now, I have no doubt that the person inside the video has earned $155.54 in a day. It is perfectly possible with affiliate marketing and JVZoo is a popular affiliate network. What I'm skeptical is the claim that the result is possible after spending 17 minutes setting up the system as taught by the program.
Any honest affiliate marketers will tell you that it will take a miracle to make that amount immediately for a newbie. And Tube Profit Sniper is no miracle.
After trying to tempt you with a couple more similar 'proofs', you'll be treated to a story of how Mike struggles to make money online and lost thousands with little results to show. It is a typical sob story that tries to play on your emotion.
Of course, you're also repeatedly told that this is the last chance for you to join the program because the seats are selling like hot cakes. Well, they aren't. If you were to watch the video tomorrow or the week after, you will be told the same thing all over again.
After watching the entire video, you'll only know that it's all about implementing affiliate marketing on YouTube but to know more about the exact system, you'll need to give your email address away.
What Do You Get After Signing Up For Tube Profit Sniper
If you attempt to leave the Tube Profit Sniper landing page, you'll be tempted with an offer of $17 for the program. That was an outdated price and the author of the program didn't bother to update it.
The moment you submit your email address, you'll be presented with a secure checkout page on Clickbank. Clickbank is a popular affiliate network that the Tube Profit Sniper is sold on. The latest price that you need to pay to access Tube Profit Sniper is $9.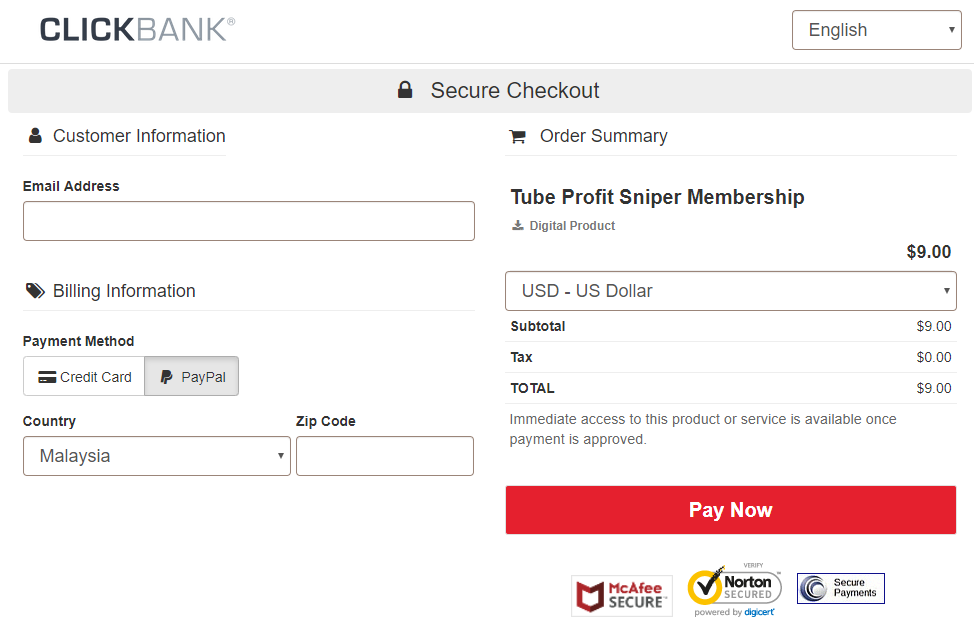 That's right. A one time $9 to set you on the way to earning $180,000 a year.
Sounds too good to be true? Well, it probably is.
If you expect a sophisticated system that generates easy money for you, or like the author said, "Even a monkey can be trained to do", you'll be sorely disappointed. Because the last time I heard, no monkey has ever managed to set up a YouTube account or create a channel.
After having $9 chipped away from your credit card, you'll get a series of low-quality training video on YouTube on your email. To be exact, there are 9 videos totaling up to approximately 2 hours of run time.
Will you make $500 daily after watching those videos?
No.
The training videos practically teach you
How to create and personalize your YouTube channel.
Keyword research and SEO for YouTube.
What software to use to create YouTube videos.
Creating titles, descriptions, and tags.
Getting backlinks to your videos.
Unless I'm missing out something, these videos won't make you anything close to $500 the next day.
Why?
Because it doesn't tell you how to make high-quality videos that engage the audience and it also leaves out a big 'secret' from you.
You don't get to build a sizeable audience on YouTube overnight. It takes lots of hard work and effort to grow and engaged followers on YouTube. For affiliate marketing to be profitable, you need to have an engaged real audience.
There are real legitimate tips that teach you to do so without needing you to pay anything. In fact, you can head on to Youtube itself for this Creator course.
Tube Profit Sniper Red Flags
I won't be making a fuss if Tube Profit Sniper states that all you'll be getting for the $9 is a series of YouTube videos that shows you how to set up a channel and create rankable contents. But the fact that there are so many outrageous claims being made and questionable tactics made it a scam to me.
It's easy to spot a scam as there are obvious red flags.
1. Fake Testimonials
To establish trust with its audience, the owner has engaged a few individuals to talk to you about how they are making easy money with Tube Profit Sniper. You're made to believe that these people are users of the program and has been successful with it.
Except they're not.
These individuals are paid actors or spokesperson whom you can hire easily at sites like Fiverr. It cost as low as $5 to get a video made by these freelancers. I'm not making wild accusation here. Take a look at this guy who claimed to be having great success with Tube Profit Sniper.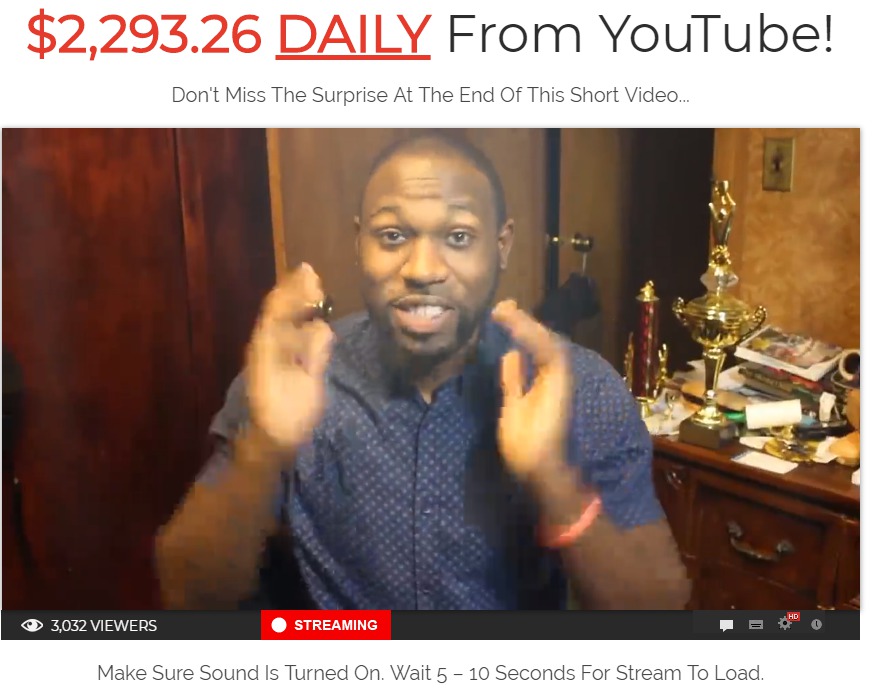 Now, the same person can be found offering video spokesperson gig at Fiverr for $5. Check out the proof below. It's the same person wearing the same shirt.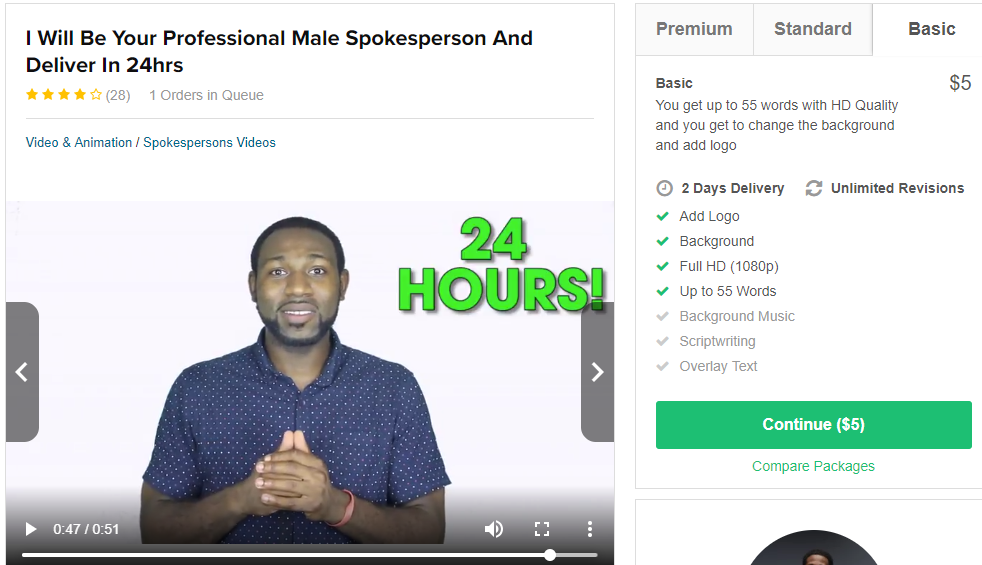 Such tactics of getting fake testimonials done are common by scams masquerading as legit programs.
Look, what are the chance of you struggling to offer gigs at $5 when you're making $500 a day? Sure, you could argue that you like having a job, but seriously?
2. Questionable Owner
The owner of Tube Profit Sniper is one Mike Andrew. Or at least that's what you're being told.
Did you realize that there was no appearance of Mike Andrew during the 20 minutes video? Apart from a short narrative of how he lost thousands of dollars figuring how to make money online, you have totally no ideas of who he is.
You would have thought that the video is being narrated by the owner himself. But it's not.
If you happen to stumble on another program called Easy Insta Profits, you'll realize that the voice doing the narration is the same, but using a different name. Both programs uses the same tactics and is from the same unknown author.
I'm very cautious when it comes to online money making programs where you can't verify the identity of the founder. You just can't buy a series of video and expect to be successful online. You'll need a mentor who is ready to guide you when you stumble.
And Tube Profit Sniper is none of that.
3. Unrealistic Promises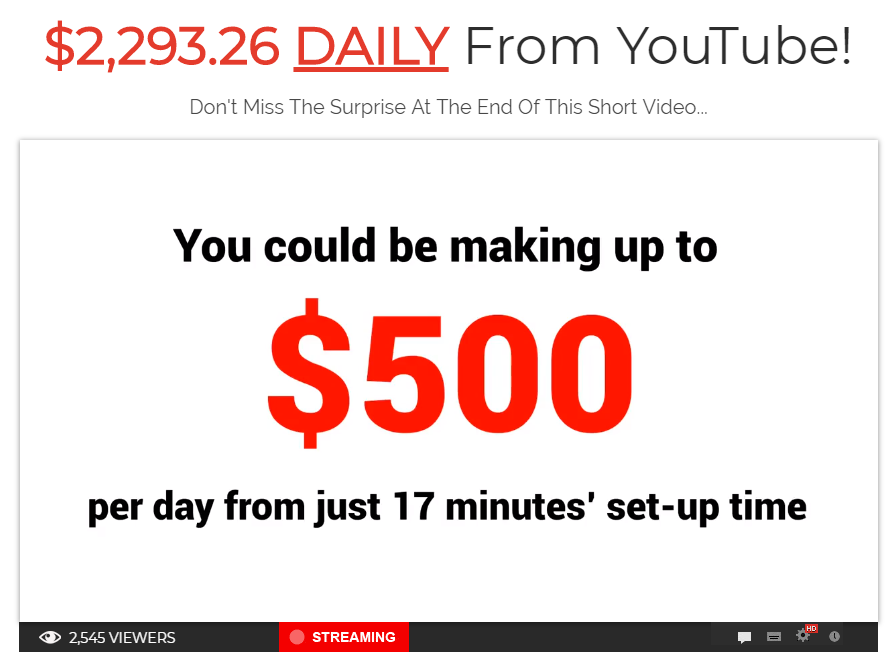 The best scams are baked with half-truths.
You're told that you could make $180,000 a year with very little effort. That's like $500 in a single day. You're presented with a series of screenshots of affiliate earnings which I presume to be legitimate.
But the lie is that you're able to achieve that all after 17 minutes of setting up your YouTube channel.
I've been in an affiliate marketer for 3 years and I've known some wildly successful super affiliates in the industry. They are making a lucrative income from the internet but one thing for sure is they have to work their way up.
There isn't a shortcut to massive riches online. Period.
Promises that you'll make $500 after 17 minutes are what most people fell for. In the end, you'll join possibly hundreds of people handling over that $9 and the owner of the program who is getting $500 daily. See that?
4. Fake, fake and fake.
If you care to do some due diligence, you'll find that most of what is being presented is all fake. For instance, the number of viewers that is being shown on the video.
The 2,328 viewers shown is fake. This number is generated by the software and tend to increase the longer you stay on the video. You can try refreshing the page and you'll see it decreases to a low number again.
Also, when you scroll down the page of Tube Profit Sniper, you'll find a few testimonials coupled with the pictures of some people.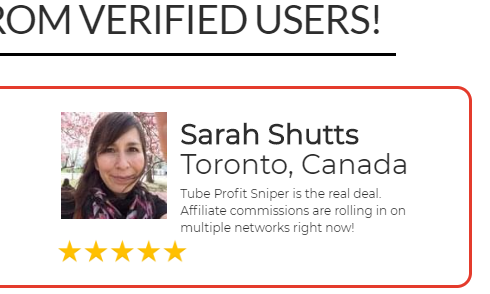 This Sarah Shutts who claims that Tube Profit Sniper is the real deal apparently has a different profile on Pinterest.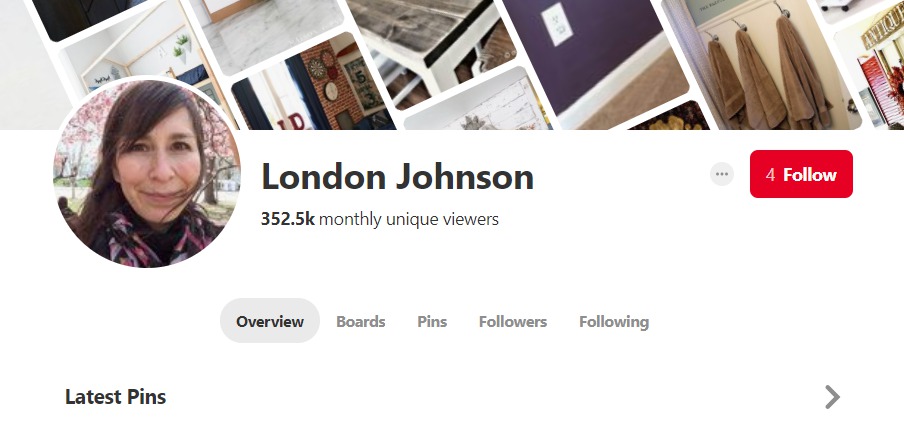 She was London Johnson on one profile. And Hanna Lopez on another.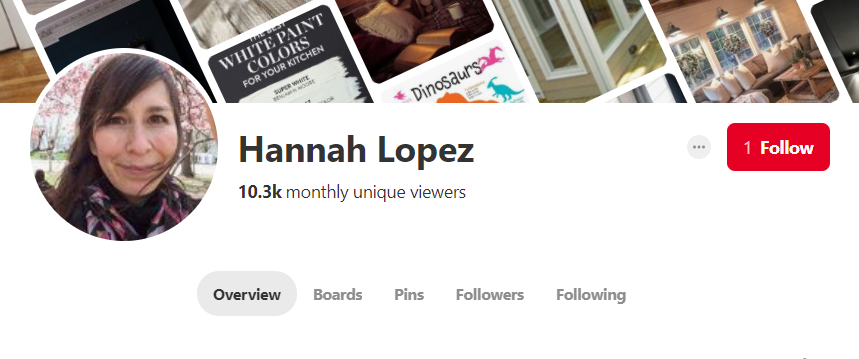 My guess is this is a stock picture that you can easily purchase at sites like Shutterstock. And the same goes for the others.
But fake feedbacks aren't the last of the fakeries of Tube Profit Sniper.
Towards the end of the presentation, you're told that there are only limited seats left and you're urged to take action. Well, there aren't any limited seats because after you submitted your email, you're being sent a series of videos on YouTube.
If you get onto the same website tomorrow, or the month after you'll be told the same story. The whole thing is to create a sense of urgency so you will spend that $9 of yours now for information that can are easily available online.
Plus, the only one making more than $500 daily is the owner of the program and not you.
Is Tube Profit Sniper A Scam?
The short answer is, YES. Tube Profit Sniper is a scam.
It doesn't matter that you get a series of videos teaching you how to create your own YouTube channel. The fact that it makes fake promises claiming that you could make $500 a day after 17 minutes of set up makes it a scam.
The lack of integrity, fake testimonials, fake reviews, and an owner who probably don't exist makes it a program that you'll want to avoid at all cost. You definitely don't want to give your email away to such a shady program.
Can you make $500 daily on YouTube? Yes.
But not overnight.
In fact, you can make money online with various mediums available on the internet. But you'll need a structured course and mentorship where you can learn the right way.
Claim Your FREE Trial Of #1 Affiliate Marketing Academy
I don't have sob stories of losing thousands of dollars on the internet to tell you. But I can say I'm lucky to found a legit online marketing right away when I decided to stop trading more time for money.
This online marketing program that I've signed up have close to 1 million members and are founded by 2 real online entrepreneurs who you can eventually connect with on social media. And the best thing is, you don't have to pay $9 to get started on the platform.
Getting started is free and you're able to get access to all the premium contents, resources, training and tools for paying members for 1 week, before deciding if its the real deal for you. And when you sign up from this link, you'll be assigned to my team, and you'll get access to personal guidance from me too.
Save your time and money. Check out the only online marketing program that I trusted.