Everyone has their say when it comes to offering opinions on Wealthy Affiliate. You've probably read dozens of Wealthy Affiliate Review articles written by members or marketers who are simply writing it for the sake of getting referrals.
Well, not this particular review.
Let me be frank. I'm a member of Wealthy Affiliate and has been so since 2016. I have successfully generated passive income online NOT by getting people to sign up for the course.
I have a site that's generating about $700+ a month and still growing in the wellness niche. And I'm building another website in a totally different niche after mastering what's being taught at Wealthy Affiliate.
Now, you may be wondering why I'm not making four or five-figure monthly yet with the 3 years I've spent at Wealthy Affiliate. Being a stubborn individual as I am, I strayed from doing what's taught and dabbled in every shiny object that I've found.
But once I decided to fully commit to the training, everything starts falling into place. It took me less than 12 months to bring the earnings from my site from $0 to $500+ per month.
And yes, I do make a commission if you intend to join Wealthy Affiliate after reading this review. But you won't find this review lovey-dovey writing on the course. Nothing is perfect and neither is Wealthy Affiliate.
Bear with me, read on, and decide if Wealthy Affiliate is the right online marketing platform for you.
Wealthy Affiliate Overview And Rating
Name: Wealthy Affiliate
URL: www.wealthyaffiliate.com
Owner: Kyle & Carson
Affiliate Marketing Training: 4.8/5.0
Website Hosting & Support: 4.9/5.0
Online Community: 5.0/5.0
Research Tools: 4.7/5.0
Price: Starter (Free), Premium Member ($49/mth or $495/year)
Like many who stumbled on Wealthy Affiliate, I've googled 'make money online from home' or similar phrases before being lead to the site one way or another.
Wealthy Affiliate is a platform that's offering a structured affiliate marketing course. It's where I learned what affiliate marketing is all about, and created my first SEO-optimized website from scratch and eventually generate a steady stream of passive income.
The platform was founded by Kyle and Carson and has been around since 2005. Back then, it was just a website offering high-value keyword lists to online marketers.
Today, Wealthy Affiliate is still growing and is nothing like what I've experienced in 2016. It has close to 1 million members that enrolled in its affiliate marketing training program.
So yes, you could expect a lively community in Wealthy Affiliate.
The Wealthy Affiliate Approach To Affiliate Marketing
Before I present you with a sneak-peak of life inside Wealthy Affiliate, it helps to understand what affiliate marketing is all about, especially if you're new to the industry.
Affiliate marketing is a process where a publisher refers customers to vendors. When the customers make purchases within a specified duration, the publisher or affiliate marketer makes a commission.
I used the term publisher because affiliate marketers often published content on websites, Youtube, Facebook, or other social media for traffic and conversion.
The fundamental process of affiliate marketing taught by Wealthy Affiliate is simple.
create a niche website.
keyword research and publish articles.
articles rank on Google over time
internet users found your articles
convert traffics to earnings
Of course, there are other facets of affiliate marketing, such as local marketing, pay-per-click (PPC), social media marketing, and video marketing that are covered on Wealthy Affiliate.
What To Expect When Signing Up For Wealthy Affiliate
Wealthy Affiliate is FREE to sign up. That's right. I was as skeptical as you are when I stumbled upon the program
After all, I've been attending multiple previews of internet marketing courses that cost a bomb before I'm allowed access to any of its training modules.
With Wealthy Affiliate, you can set up an account for FREE and get access to all the training modules, tutorials, video, support, and community as what any paying members are getting for ONE WEEK.
For me, that's pretty fair, and generous on the part of Kyle and Carson.
After signing up, you'll be logged in to a dashboard that looks like below.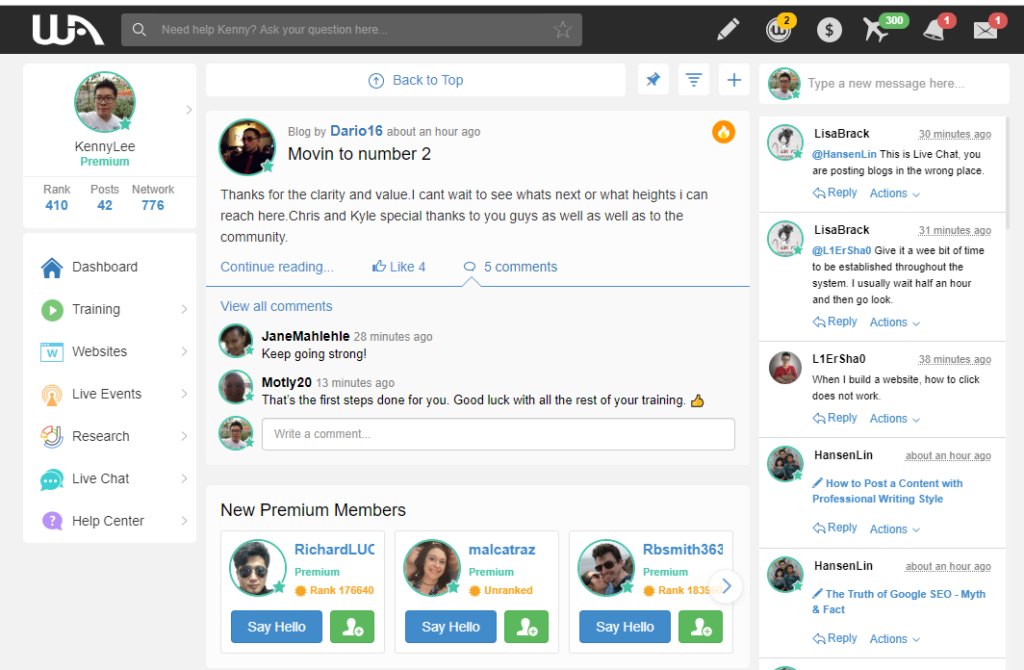 Now, it may look overwhelming at first glance, but it's pretty intuitive the first time you logged in.
You'll be guided to the Online Entrepreneur Certification course which is a set of comprehensive programs that help you to build your first website from scratch.
Online Entrepreneur Certification
Here's a glance at the modules involved.
1. Module 1- Getting Started
The first module guides you with what you need to start making money online. You'll want to pay attention to choosing a niche because that will play a big part in influencing the direction of your website.
You also get to create your first website with very clear guided instructions from the training. Don't worry if you've never created a website before. I have totally no idea what WordPress or domain is all about when joining Wealthy Affiliate.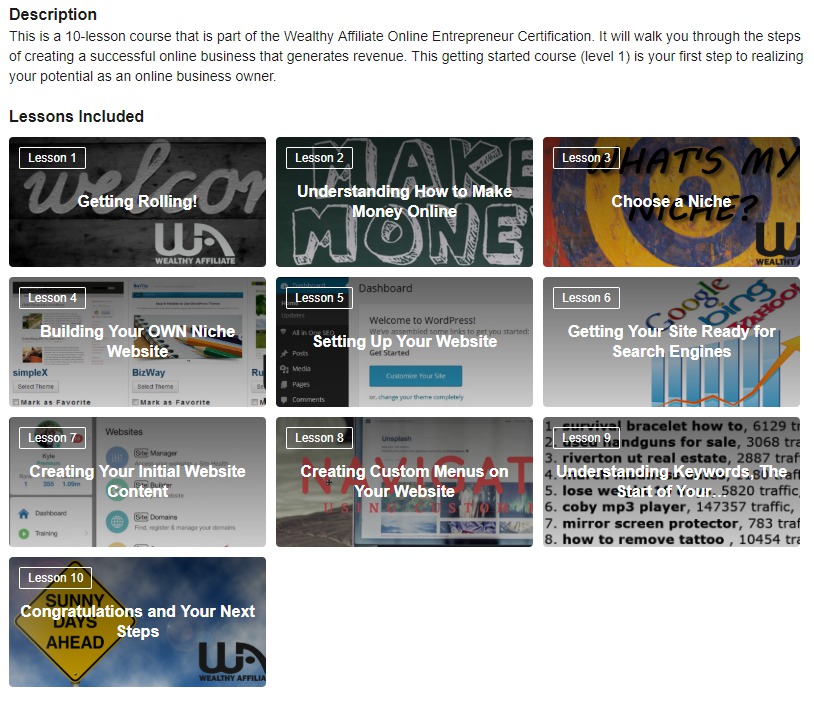 2. Module 2 – Building Your Own Traffic Producing Website.
The key strategy of generating online income that you'll learn in Wealthy Affiliate revolves around a brandable website. The second module takes you deeper into personalizing your website. You'll also learn about keywords and how you can target profitable search terms.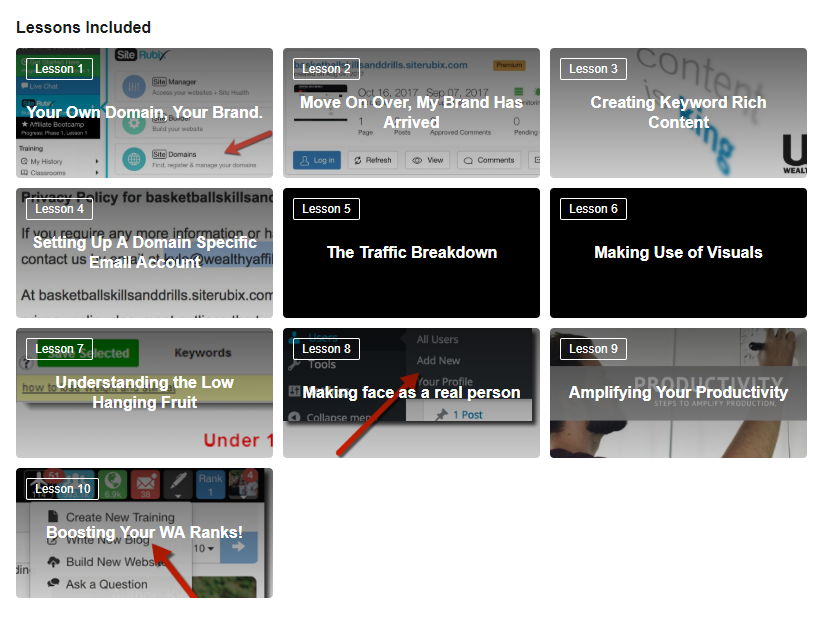 3. Module 3 – Making Money
Now, this is an interesting part that you'll want to pay special attention to because making money is what affiliate marketers do in the end. This module explains in-depth about affiliate programs and how to use affiliate links in your article.
You'll be taught on strategies such as writing reviews (like this), to rank your article and get readers to visit the vendor's website. There's also a section about Google Adsense, but I suggest you concentrate on affiliate programs for now.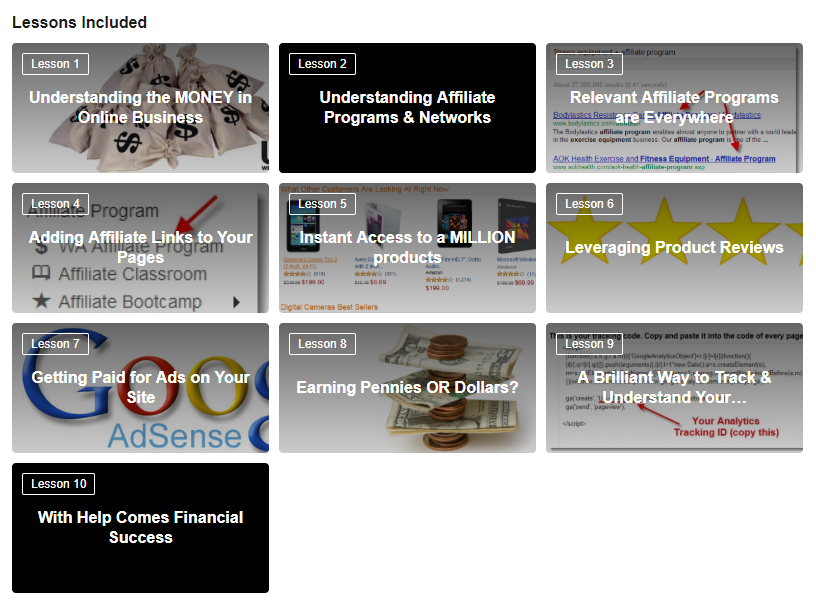 4. Module 4 – Mastering Social Engagement
While ranking your site helps to deliver consistent organic traffic, you can't dismiss the power of social media when your audience is spending their time there. You get to learn about the right way to market yourself on Facebook, Pinterest, Twitter, and other networks.
Trust me, it's not about getting more 'likes' on your page. Or spamming your article link to every group you're in.
5. Module 5 – Achieving Maximum Success Through Content Creation
Content is king when it comes to affiliate marketing. You'll need quality content to engage your audience and establish trust. In the final module, you'll learn how to balance the technicality and art of writing content that convert.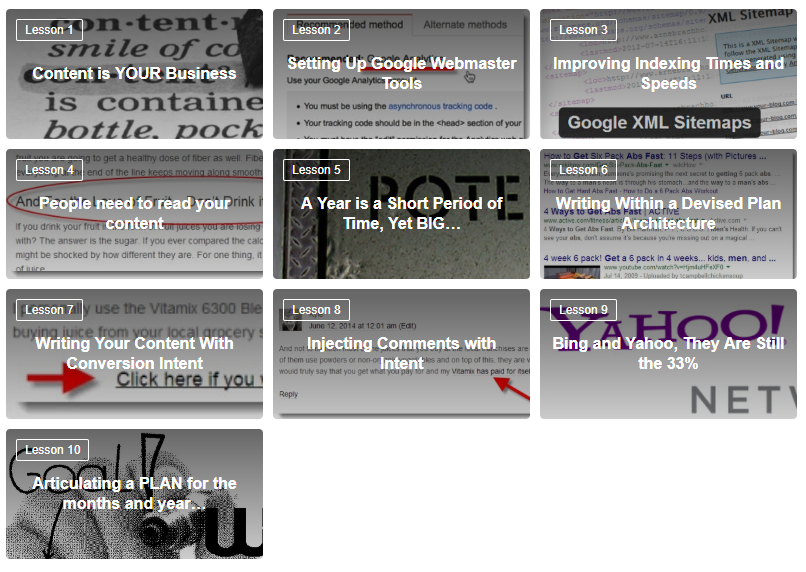 The Affiliate Bootcamp
You'll also notice that there's an Affiliate Bootcamp training. It's a series of courses where you'll get to learn how to promote Wealthy Affiliate and make money in the process.
Now, at this point, you may wonder if you have to be in the niche of 'make money online' and promote Wealthy Affiliate to make money.
The answer is NO, and I'm the living proof of that. I decided that I wouldn't be promoting Wealthy Affiliate until I've made money with a website in a totally unrelated niche.
And I did it.
The snapshot below is how to increase the earning of my website, promoting Amazon products in 2018.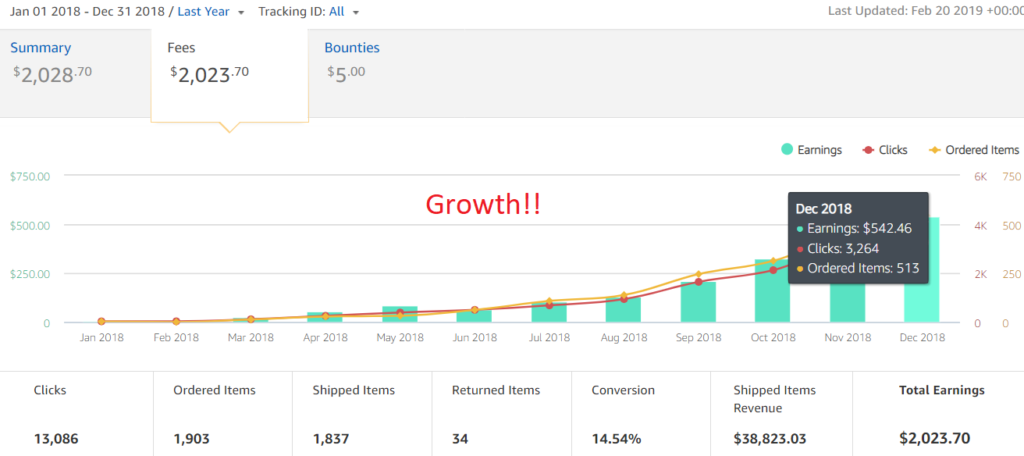 So, you can give the Affiliate Bootcamp a skip if you intend to build a website in your own niche.
Tutorials And Video Classes
If you think that all the training you'll get at Wealthy Affiliate is the Online Entrepreneur Certification and Affiliate Bootcamp, you're wrong.
Once you've finished the OEC, you have the option to browse through various tutorials (which I strongly encourage), and registering yourself for the weekly live Video Training session.
There are also 'classrooms' where you get to ask questions and have them answered by fellow, often more experienced members.
You shouldn't be worried about the lack of resources. You should be worrying about not having enough time to digest through everything.
Hosting Your Website At Wealthy Affiliate
The website is the lifeblood of your affiliate marketing business. And you'll want to have it hosted on a reliable platform.
When you signed up as a Premium Member of Wealthy Affiliate, you can host up to 50 websites without additional cost. The only fee you need to pay is for the domain name.
You'll also have all the technicalities of setting up SSL, email, boosting the speed of your site and other WordPress concerns addressed when hosting your site in Wealthy Affiliate.
You can expect an awesome technical support team that responds to any query you have. I'll be lying if I claim there were no technical issues with my site. But when some hiccups occurred, I get them resolves in less than 15 minutes.
Awesome Keyword Research Tool
If you've read a Wealthy Affiliate review that doesn't mention the built-in keyword research tool, the author has either never been a member of Wealthy Affiliate or has missed out on one of the most powerful tools that mean everything for your website.
When creating content that rank, keyword research is the topmost priority.
Not getting hundreds of backlinks.
Not obsessing with perfect grammar.
And definitely not about choosing the right color for your theme.
Within the side panel of the dashboard, you'll find a 'Research" tab, allows you to research the right keyword before writing an article.
You'll want to get a keyword that has decent traffic but without too many competitors. The keyword tool also returns the result of other similar searches, which may be helpful.
Here's a snapshot of the keyword tool in action.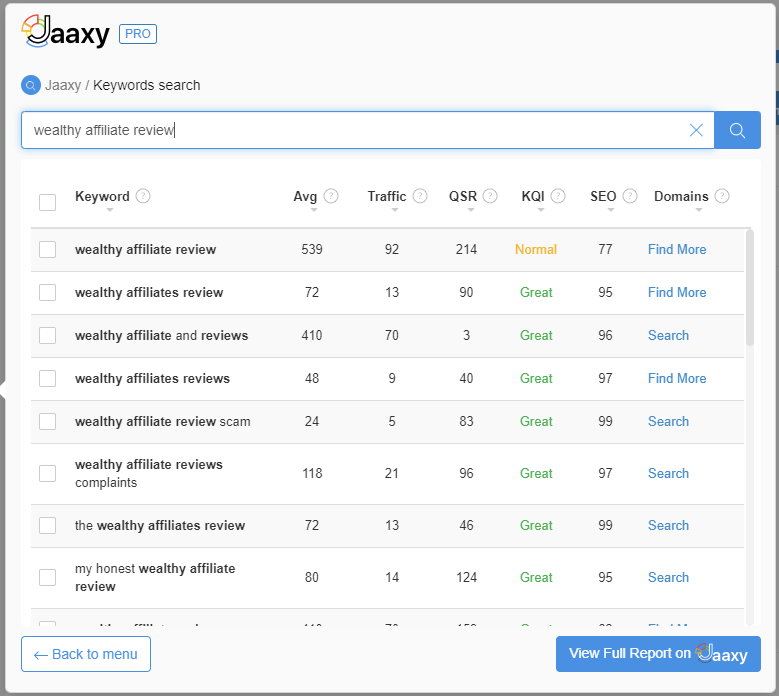 The keyword tool that is made available for FREE for Wealthy Affiliate members uses the engine of Jaaxy, a powerful and advanced keyword research tool created by the same company.
Getting the full version of Jaaxy requires a subscription fee. But you don't have to use that to make money with your website. The FREE version of the keyword tool is more than enough.
A Supportive Wealthy Affiliate Community
I suppose you've watched a couple of 'celebrity' internet marketers promoting their course before stumbling on this review.
Some paints the picture of building your online business with tempting images of lazing on the beach while having everything done for you by the system.
I've been long enough in the online marketing world to tell you that those are exaggerated pictures made by marketers luring you to their programs.
It's exciting when you're picking up something new, like going through the Online Entrepreneurship Courses and writing a few blog articles on your website.
But to succeed, you'll need to repeat what you're doing day in and day-out. There are moments when you'll end up frustrated, and there are times you'll get excited because you made the first $1 online.
Whatever it is, you wouldn't be sipping coconut juice on a beach while hoping for your website to build itself.
Online marketing can be a rather lonely process. Imagine facing your screen for hours, trying to brainstorm, write, publish, and pray that someone reads your article.
That's where the Wealthy Affiliate community steps in. You can join the banter of lively conversation at the Live Chat. (Just don't spend all your time there as it can be pretty addictive).
Or you could join the discussion in various forums. You're bound to learn something new in the process.
You can also strike up new friendships among Wealthy Affiliate members. It's encouraging knowing people who share the same dreams and are willing to work hard for online successes.
Private Coaching
You'll never imagine how a piece of simple advice could nudge you in the right direction, especially if you're a newbie in affiliate marketing.
Sometimes, it can be overwhelming trying to build a website, write articles, research, and engage with the audience at the same time. Or there are moments where you're in doubt of your progress because there isn't that much traffic showing up yet.
A simple message to Kyle and Carson will get you back in the right direction. Private coaching is a privilege that all premium members enjoyed at Wealthy Affiliate.
But they are not the only people who you could seek help in the program. There are many successful affiliate marketers who have made it, and are more than willing to help beginners to be successful as well.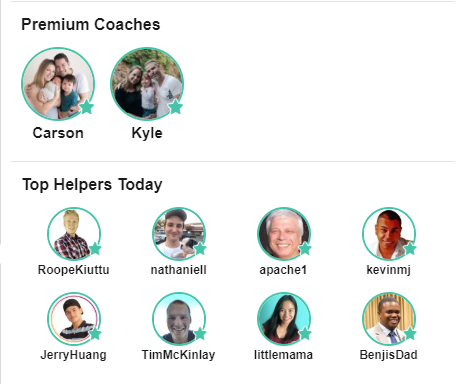 Marketers like Nathaniell, Jerry Huang, and Little Mama(Grace) have made it huge thanks to Wealthy Affiliate. You'll be able to check out their advice and tips from their personal blog on WA.
If you're a total newbie, I'll suggest you learn from the successful members. Never hesitate to reach out and connect with them. You'll gain much from their experience and avoid mistakes commonly made by beginners.
Wealthy Affiliate Success Stories
Now, every online marketing programs have their success stories and there's no shortage of that in Wealthy Affiliate.
They are always a source of inspiration to work harder, following the system taught in Wealthy Affiliate. There's no magical shortcut to success. If you ask these successful marketers, they will tell you it's all about going through the grind, pain and the occasional despair before making it.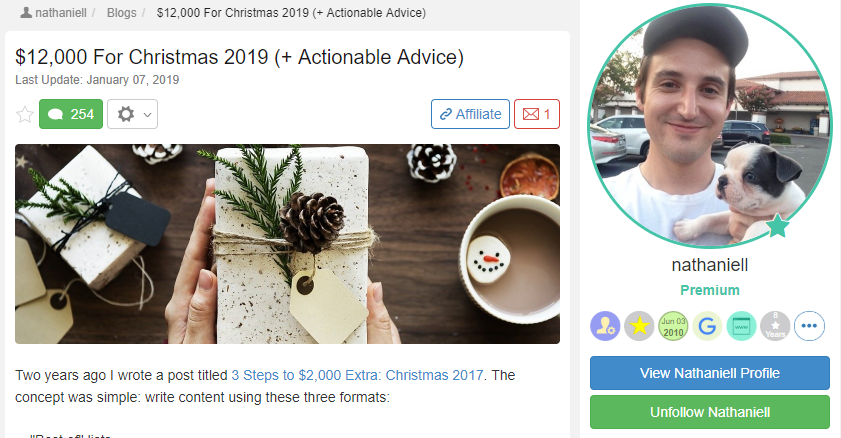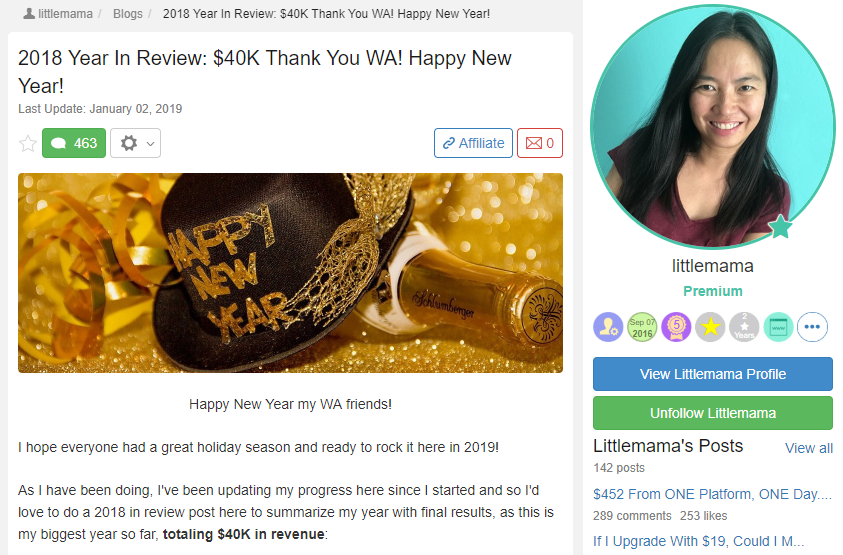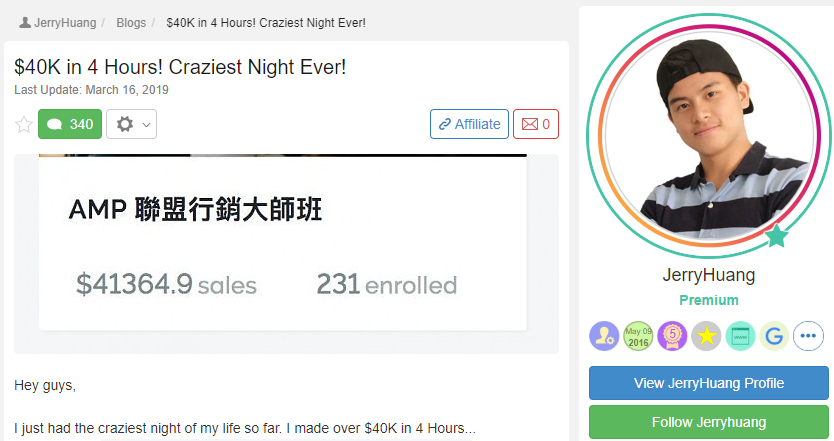 Now, I want to be clear again with these 3 success stories. I wouldn't want you to get the idea that you could replicate their results a couple of months after joining Wealthy Affiliate.
Wealthy Affiliate is a no-nonsense online marketing university that doesn't make blatant promises of your success. It provides all the tools, resources, and platforms you need. And you'll need to work your way up.
How Do You Make Money With Wealthy Affiliate
I want to make sure that you're clear about how you would eventually make money online with Wealthy Affiliate.
Some programs are being vague and you may end-up blasting emails for the sole purpose of getting referrals. Such methods of making money are not sustainable.
You make money with Wealthy Affiliate by creating a website that:
Promote affiliate products/services/advertisement in a niche that you have chosen.
Promote Wealthy Affiliate or other related programs.
Once again, I'll like to stress that you don't need to promote Wealthy Affiliate to be successful online.
I only do so after I've managed to generate a consistent stream of income from a niche totally unrelated to online marketing.
Does Wealthy Affiliate Really Work?
When you read reviews about Wealthy Affiliate, you'll get a mixed response from people writing about it.
Some would claim they have found success with Wealthy Affiliate while others would suggest that Wealthy Affiliate is simply a waste of time.
That's right, there are some members who couldn't make money with their website and quit.
They would conclude that Wealthy Affiliate is a rip-off, scam, or simply outdated.
I was close to being one of them. Real close.
Here's a recap of how I fare in Wealthy Affiliate
2016 – Joined Wealthy Affiliate. Created a website and make my first $1 in 6 months.
2017 – Got impatient. Strayed off and dabbled in other stuff. Got scammed and return to what I was doing in Wealthy Affiliate.
2018 – Gave everything I have and I turned my failing website to making $500+/month at the end of the year.
2019 – My earning is still growing and I'm building my second website in another niche.
As for the people who can't seem to make money in Wealthy Affiliate, here are the common reasons.
They don't follow the training at Wealthy Affiliate.
They expect results after a couple of weeks.
They lack focus and got distracted.
They gave up too fast.
I've been a member of Wealthy Affiliate since 2016 and I've noticed that these are always the culprit of them not getting any breakthrough with their website.
If you're able to avoid making those mistakes, I don't see why you can't be successful at Wealthy Affiliate.
Remember that I went from total ignorance of creating a website to having one that generates income in less than 3 years.
How Long Does It Take To Make Money With Wealthy Affiliate?
Well, this is the burning question every new Wealthy Affiliate members wanted to know.
And I know you want this answered before signing up for Wealthy Affiliate.
Many internet marketers will give statements like "it depends on your progress", "results vary with individuals" or "you need to work harder and stop questioning the program".
I'll tell you straight on that you will make your first $1 online within 6 months when you follow ALL the training as taught in Wealthy Affiliate.
Why 6 months?
Because that's how long it takes for a growing website to gain trust on Google. And for you to produce enough high-quality content.
This is not an empty promise, but rather of what I and fellow members have achieved starting as a beginner.
You'll need to have a horse-like work-rate. And that means taking affiliate marketing seriously. Spending 2 hours a week on your website will not bring you any results.
It's a daily commitment and it's going to be tough during the learning curve. But once you've mastered what works in your niche, it's going to be easier.
Is Wealthy Affiliate A Scam?
Let's be clear about what defines a scam. Because I've had my fair share of getting scammed.
A scam is defined as a fraudulent scheme. And there are hundreds or thousands of scams lurking around online.
Ever been tempted to sign up to programs that promise you 4-figure earning a week and having all the hard work done by the 'system'?
Or how clicking some online advertisements can turn you into a millionaire?
Generally, a makes outrageous promises and lacks substance.
In short, if it sounds too good to be true, stay away from it.
One of the first things that Kyle stresses upon joining Wealthy Affiliate is that there are no promises that will guarantee you success.
That's right. No promises are made.
What you have is a set of the most sophisticated internet marketing training platform in the industry and all the best help you can get to build your own success.
And considering that Wealthy Affiliate has been growing and thriving for the past 15 years, wouldn't that be too long for a scam to live on?
Here are what people who have signed up for Wealthy Affiliate has to say about it being a scam.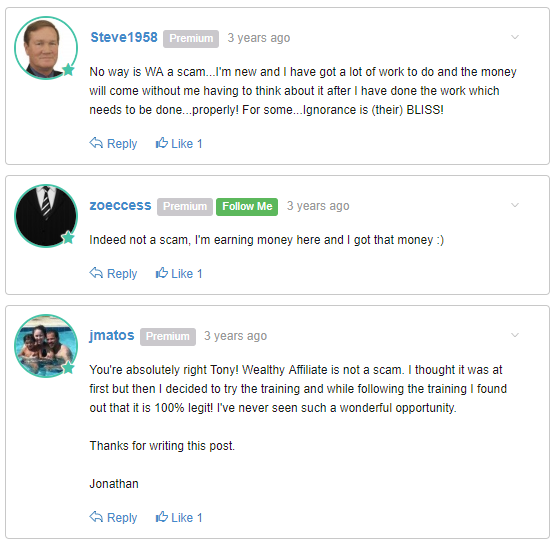 How Much Does Wealthy Affiliate Cost?
I know that you'll be wondering how much would you have to pay to sign up for Wealthy Affiliate.
Signing up for Wealthy Affiliate is FREE. You will not be charged anything when creating an account on Wealthy Affiliate.
For the first 7 days, you get FREE ACCESS to all the premium training, resources, tutorials, videos, and direct access to top coaches.
After the week is up, you can choose to remain as a non-paying member, but with limited access to premium features on Wealthy Affiliate.
Here's a comparison between a PREMIUM and FREE account.
And if you decided to sign up as a PREMIUM MEMBER (which I did before the week is up), you'll be paying $49/month.
Of course, you can get more savings by opting for the yearly payment, which cost $495/year. This is about $0.98/ day and I would say a catch for a top-notch affiliate marketing academy.
There's no hidden cost that pops up unexpectedly. So don't worry about having to pay more fees to access certain resources. You won't get any upsells at all.
You get no such nonsense at Wealthy Affiliate.
The only other fee incurred is purchasing the domain name, which becomes your digital property. I advise in doing so if you're serious about having success in affiliate marketing.
What I Like (And Dislike) About Wealthy Affiliate
I've mentioned that I'm going to give you an honest review of Wealthy Affiliate. And that means sharing not only the pros but also the cons of the entire program.
Here it goes.
Wealthy Affiliate Pros
A well-structured affiliate marketing course for beginners.
Vast collections of resources. (tutorials, videos, classrooms).
Live video training.
Reliable and fast website hosting.
Accurate keyword research tool.
Supportive and vibrant online community.
24/7 technical support.
Direct access to the founders (Kyle and Carson).
No upsells or hidden charges.
Wealthy Affiliate Cons
Overwhelming resources. You'll have little time to browse through all the tutorials.
Lesser focus on other forms of traffic generation techniques apart from SEO.
My Major Complaint On Wealthy Affiliate
My only single major grievance about Wealthy Affiliate is the Affiliate Bootcamp program.
Don't get me wrong. There's nothing wrong with a program that encourages members to promote Wealthy Affiliate.
What's wrong is the mindset of some affiliate marketers who wished to prosper by writing shallow reviews, or providing false opinions on other programs in favor of Wealthy Affiliate.
This has caused a negative light to be painted on Wealthy Affiliate.
To be fair, there's nothing that Kyle could do as each individual is free to choose their beliefs, ethics, and direction in building their business online.
As someone who's not entirely new, I would suggest in building your website in a niche that you're passionate about, and it may not be promoting Wealthy Affiliate.
Should You Join Wealthy Affiliate?
The truth is, Wealthy Affiliate isn't meant for everyone. I wanted to be upfront with you so you won't be wasting your time signing up a program that you couldn't thrive in.
If you're one of the following, I would suggest NOT signing up for Wealthy Affiliate:
You expect overnight success.
You are not willing to work hard.
You're a quitter.
You're uncomfortable at learning something new.
You have a tight budget to pay $495/year. ($0.98/day)
But, if you're hoping to get started as an online marketer, Wealthy Affiliate is the right place for you to get started.
You'll also find Wealthy Affiliate a great learning platform for
ranking your website on the first page of Google. (SEO)
writing contents that convert. (without hard-selling)
creating a brandable online business
generating income from affiliate marketing
social media engagement the right way.
a reliable and economical option for hosting websites.
networking with like-minded marketers.
How To Join Wealthy Affiliate
If you're still reading, I know that there's something about making money online that excites you, as it did to be in 2015.
I was hoping for a breakaway from the routine of commuting to the office, or tied up in a business that is geographically restricted.
I longed for the digital nomad lifestyle, and I'm willing to do what it takes to get there.
If you shared similar dreams with me, joining Wealthy Affiliate is just a step away.
Click Here To Sign Up With Wealthy Affiliate For FREE
By signing up with this link, you'll be automatically assigned to my team. And that means you'll get my personal attention on top of all the existing training in Wealthy Affiliate.
I'll be able to help you avoid rookie mistakes that I've personally committed. (It's a huge list).
A Quick Recap: My Honest Review On Wealthy Affiliate
Time is precious and you may only have a fleeting glance of the above review.
I've consolidated all the important points for you to make an informed decision.
Here's a quick recap.
Wealthy Affiliate is a sophisticated learning platform for affiliate marketing.
It is not a scam and you don't get rich quick overnight.
Expect to learn to create a money-making website from scratch and be ready to earn in 6 months (or lesser).
It has all the training, tutorials, video, classes and support for a newbie affiliate marketer.
Signing up is FREE and with 7 Days of FULL PREMIUM access. The Premium membership cost $49/month or $495/year.
Direct access to the founders, Kyle and Carson.
A powerful keyword research tool to help you create content.
Lively and helpful community.
Many successful affiliate marketers are produced in Wealthy Affiliate.
Wealthy Affiliate works if you do your part.
If you're willing to take charge of your life and start creating your first stream of online income, sign up from the link below.
Sign Up With Wealthy Affiliate For FREE
Do you need further clarifications about signing up for Wealthy Affiliate? Feel free to leave me questions in the comment below. Also, if you're already a member of Wealthy Affiliate, I hope you can share your experience with me.
Hey, it's Kenny here. I'm a single dad, freelance writer, an affiliate marketer. I have been making a living online since 2016, after quitting a 10-years engineering profession. When I'm not on the laptop, I'll be in the kitchen experimenting with new cuisines.