Having a side hustle in this day and age is hardly a strange thing. But this doesn't mean that you should throw your money and time at any business opportunity that comes your way. If you've been offered a chance to sign up with an MLM company, you need to be extra-careful.
One MLM company—Emris International—has attracted quite a lot of attention as of late. Now, we're usually one to call out all MLMs as being frauds, but is Emris different? Is Emris International a scam, or is it a legitimate way to make some extra cash? Read our review to find out!
What Is Emris International?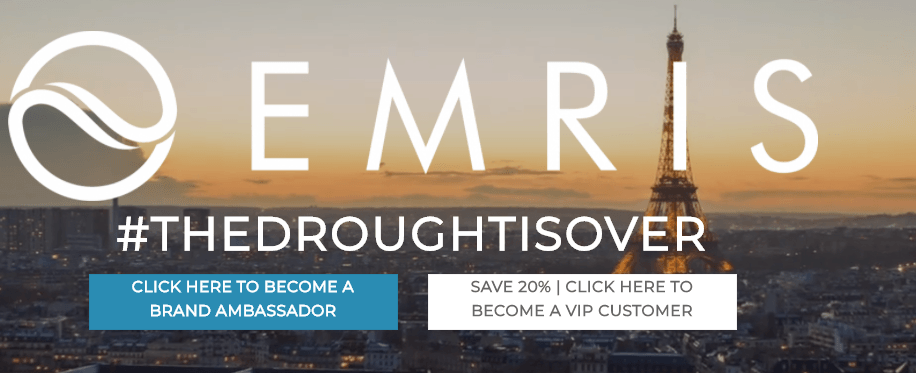 Name: Emris International
Website: emrisinternational.com
Founders: Aspen Emry, Ilean Harris, and Matthew Harris
Cost to Join: Starting from $49
Rating: 6/10
Emris International first launched back in 2019. It's an MLM company that operates in the nutritional supplement niche. It's a pretty new company, but its business model is similar to what you'd find in other MLMs.
The company was founded by Aspen Emry (CEO), Ilean Harris (CSO), and Matthew Harris (CVO). The name Emris is a unification of all three of the cofounders' names. Before founding Emris International, Aspen was involved with itWorks, another MLM company that has been around for nearly two decades. 
What does Emris International Have to Offer?
Unlike most nutritional and supplement MLMs, Emris International's manufacturers and distributes a limited number of products, which you'll see down below:
180 DETOX Tea – $62 for 28 bags
180 DETOX Tea is an energizing tea that enhances digestion and weight loss through the miracle of all-natural ingredients.
Vida – $74 for 30 tablets
A single Vida tablet contains over 24 different organic fruits and vegetables that will help supplement your diet. 
Vitality Plus – $74 for 30 capsules
Vitality Plus capsules contain a premium blend of herbs that replenish an adult's vitality to optimal levels.
Renew – $62 for 60 tablets
Renew tablets are made to detox your system of harmful substances that induce bloating among other uncomfortable conditions. These tablets also supposedly help users manage their weight quickly and easily.
Synergy –$74 for 150 mg/$99 for 250 mg/$149 for 500 mg per 30-ml bottle
A bottle of Synergy contains broad-spectrum hemp oil that helps soothe the user and better deal with stress, anxiety, and insomnia.
Eden – $105 for 4-oz bottle
An aloe-vera based skin serum infused with CBD and apple stem cells that helps loosen tightness in the skin, making you look as young as you feel.
Synergy Nano – $124 for 30 gel capsules
An easy-to-swallow way of introducing broad-spectrum hemp oil into your system for instant stress relief.
Pawsible – $74 for 30-ml bottle
A delectable bacon-flavored snack that your pets will love. Each bottle is laced with 100 mg of broad-spectrum hemp oil for extra soothing relief.
What Does It Cost to Join Emris International?
Hopping aboard the Emris International train is like any other MLM. To become an affiliate member and beginning pushing Emris products to customers, you need to pay a $49 registration fee. Every year after that, you need to fork over $35 to retain your membership.
Upon signing up, your Emris International referrer will offer you three optional Business Starter Packs.
Business Builder Kit ($199) – no introductory product package and access to basic training programs
Legacy Builder Kit ($499) – a couple of products of your choosing as well as access to a greater pool of training programs
Presidential Builder Kit ($999) – more products of your choosing and access to all training programs
We know that the descriptions of these Business Start Packs are crude at best. If you want to know more about what kind of products and training programs you'll receive, you need to speak with your official Emris International referrer. Upon signing up, you'll instantly earn the title Brand Ambassador, which is Emris' way of saying that you're an affiliate member.
How Do You Make Money with Emris International?
There's absolutely nothing unique about how you get paid with Emris International. If you're familiar with the compensation plans of the average MLM business, then you already know what Emris has in store for you.
Essentially, there are nine ways you can make money through Emris International. They are as follows:
Retail Profits
Brand Ambassadors get a 20% discount off of the retail price for each of their purchases. To earn retail profits, simply sell the stuff you got from Emris at the original retail price. The difference between the MSRP and discount price is yours to take home
VIP Customer Bonuses
For every purchase through an enrolled VIP customer and your referral link, you're entitled to a 10% commission. For instance, if your friend is a VIP customer and purchases $300 worth of CBD serum, you get a $30 commission from the transaction.
Global Customer Pool
Emris International will award a 1% commission from the revenue pool generated by VIP customers. Any active Brand Ambassador can get a cut of the pool. To earn one share of the pool, you need to have sold 1,000 PCV worth of product within a four-week window.
Fast Start Bonus
A Brand Ambassador that introduces and recruits a new member who subscribes to either the Business Builder Kit or Legacy Builder Kit will earn a cut of the registration fee ($50 and $100, respectively).
Team Bonuses
If you build a successful team of go-getters, a portion of the total revenues are set aside in a separate pool, and you, their upline, can earn a cut of that pool. 
Generational Check Matters
Get up to 20% of the Matching Bonuses earned by your downline. This includes your indirect recruits of up to two generations of Director or higher. 
Director Bonus Pool
1% of the total PCV of every Brand Ambassador is set aside in a Director Bonus Pool. Directors can earn a cut based on how many shares they have. This bonus is paid out every four weeks.
Vice President Bonus Pool
Those with Vice President status and greater will make an additional 0.5% off of the total PCV generated by every Brand Ambassador. Once again, payouts are done every four weeks.
Global Trip Incentives
Brand Ambassadors that meet the annual requirement will score a free getaway to a foreign land. You cannot exchange your tickets for a cash reward.
Thinks I Like About Emris International (Pros)
Let's talk about the things we like about Emris before delving into the bad.
1. Actual retailable products
The most crucial sign to look for in order to determine whether an MLM is a scam or not is whether it manufactures and/or sells a physical product. It's clear that Emris International does. This nutrition and supplement MLM company engineers its own product line and offers them to customers all over the world.
2. Selling products in a booming niche
CBD products are the rage. Also, it's pretty hard to break into the CBD market and stay there, what with there being a select few large corporations who run the entire industry.
3. Follows legitimate MLM compensation plans
Even though the compensation plan for Emris International member is not unique in any way, it's definitely a tried and true method of giving something back to the affiliates or Brand Ambassador in Emris' case.
4. CEO's proven track record with itWorks
itWorks has been alive in business since 2001, and there's no indication that it's going to stop any time soon. The CEO of Emris was involved with the development of itWorks, so it comes as no surprise that she would bring the sample principles into her new venture. We have pretty high expectations for what Emris International can achieve in the future.
Things I Dislike About Emris International (Cons)
However, just because Emris International has a bright future doesn't mean all of its Brand Ambassadors will. Here are a few downsides about the MLM company worth knowing.
1. Expensive products
CBD products aren't cheap, but Emris International takes it several dozens of dollars past the "affordable" line. Now, we can't vouch for the products since we haven't tried them out, so you'll have to see what reviewers have to say.
But by looking at the company's overall product line and their high prices, we don't think Brand Ambassadors will have an easy time pushing their products.
2. Typical MLM shenanigans
Even though MLM business can be legit, this doesn't mean they're the best way to invest your money. To make a return on your investment, you have to sell products and create a team of top-performing sellers/recruiters. 
Verdict: Emris International Is Not A Scam
All things considered, it's safe to say that Emris International is not a scam. Like Shaklee and Elepreneurs, it is a legit MLM opportunity. Feel free to pay the sign-up fee, purchase one of the starter packages, and begin recruiting new members.
Making a return on your investment is not going to be easy, but at least it's possible. That's the best an MLM company like Emris International can offer.
However, if you're looking for more (aren't we all?), then your best bet is to try affiliate marketing. By becoming an affiliate marketer, you can find products that you've tried or know and review them.
If you helped generate sales through your blog/social media post/YouTube video, you'll get a small cut of the earnings. It's basically traditional marketing, but you don't have to leave the comfort of your home. 
Here's the program that got me started.
Hey, it's Kenny here. I'm a single dad, freelance writer, an affiliate marketer. I have been making a living online since 2016, after quitting a 10-years engineering profession. When I'm not on the laptop, I'll be in the kitchen experimenting with new cuisines.