Let's get realistic.
There's only so far you could go alone in any MLM business. If you're trying to be a high-achiever, and get to where the real money is, you'll need to grow your network.
Specifically, you need to grow tiers of downlines by enrolling people who share your passion. Ideally, you'll want your team members to be good in what with what they're doing.
It spares you the time of going through the basic, such as coaching your new recruits marketing 101.
The problem is, finding new recruits is tough, particularly if you're looking at the wrong channel. Once you're done with friends and family, you turn to social media like Facebook, which doesn't give good results.
Facebook and other mainstream social media are made up of people with varying interests. Only a fraction of them is potentially interested in your offers. And it takes too much effort and time to reach those small groups of people.
But what if, you have a social media platform specifically for network marketers?
MLM Gateway – The Social Media For MLM Members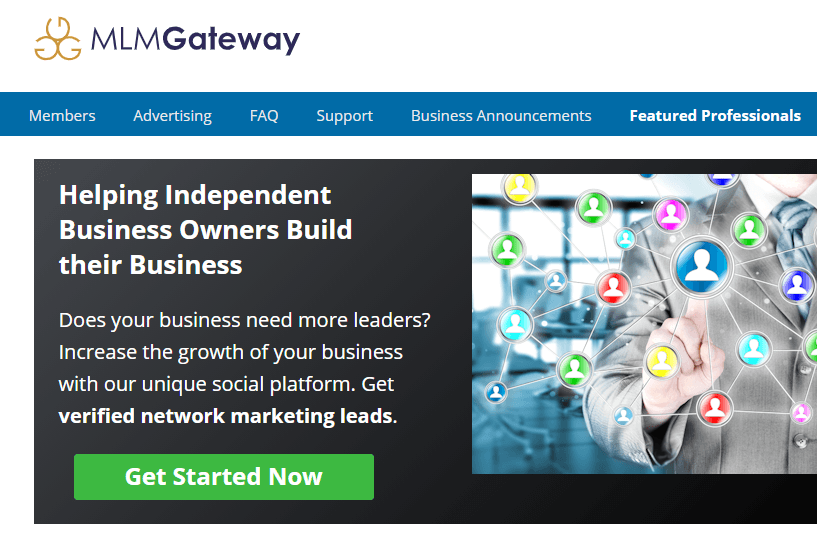 Just like what Facebook is for the public, MLM Gateway is the social media platform for network marketers. It is the home to more than 342,000 network marketers, at the moment of writing.
You can connect with fellow MLM members, run ads on your product, and expand your team with MLM Gateway. It's also a good platform to get updates on the latest opportunities in the MLM industry.
How Much Does MLM Gateway Cost?
MLM Gateway works on credits. If you want to reach out to a member, it costs 1 credit. Need to run an advertisement campaign? It'll cost you credits too.
But fret not. The cost of those credits is cheaper than running CPC ads on Google. And you're connected to an audience that is more likely to show genuine interest.
You can also opt for premium membership subscription though, which gives you 50 credits a month.
Signing up for MLM Gateway is FREE though, and you'll get 5 credits just for doing so.
Grow A High-Achieving Team With MLM Gateway
MLM is a team game and you'll need the best member to reach higher goals. It's frustrating how much time is spent looking for new recruits and shaping them to be awesome marketers.
With 342,000+ members on the platform, the odds of getting capable recruits on board are in your favor. There's also a chance of landing an experienced network marketer who'll take your team to greater heights.
Personally, I don't mind having seasoned marketers in my team, if it means charting a larger group revenue.