No one says parenting is easy. But when you're a full-time stay-at-home mom or dad, you have to deal with house chores, cooking, cleaning, and the occasional tantrum thrown by your child. But is there a chance to make decent money from home without neglecting your duty as a parent?
The short answer is yes.
While I'm not a mother, But I'm a single father working at home for the past 3 years and supporting the growth of my son. I found time to cook, clean, prepping my son for bed, blog and of course, making enough money to keep the expenses covered.
If you're a stay at home parent, hoping to make a decent income while juggling parenting, then read on. I'm not going over 50 over different methods of making money from home that I've never tried.
What you'll find in this article are ways that I've tried personally.
1. Paid Survey Sites
There are online sites that offer monetary compensation by doing surveys. You'll be asked to complete a series of survey questions which may take between 10-30 minutes, depending on the survey. At the end of it, you'll be granted credits which are ultimately converted into cash.
After accumulating the amount to a certain threshold, you can transfer the cash to your Paypal or other payment gateways.
Some of the most popular survey sites include:
Now, these paid survey sites are legit websites and you DO earn cash in return for a survey. In fact, I did try out a couple of them before giving up. The thoughts of supervising my child while filling up questionnaires to pay bills sound too good to be true.
But after spending 30 minutes or so with dozens of questions, I earned less than a dollar. And there are some frustrating moments where you could spend 10 minutes filling up the questions only to be disqualified as you don't match the survey profiles.
If you are not desperate for money to pay bills and don't mind earning a pittance, then there's no problem with taking paid surveys. Just don't expect to make hundreds or thousands of dollars in income at the end of the month.
2. Dropshipping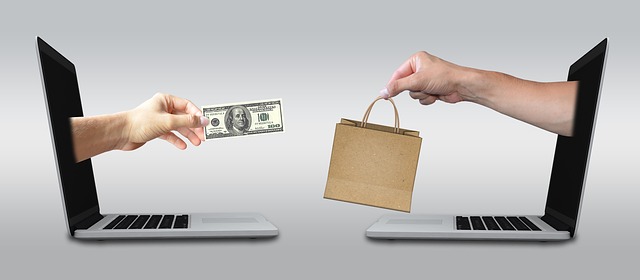 When brainstorming for possible ways to make money from home while caring for your child, you may have come across the idea of selling products online. But the thought of stocking up products, marketing, invoicing, and shipping the products out may have stopped you from materializing it.
Enter dropshipping.
Dropshipping changes the e-commerce retail industry. Instead of stocking up inventories and commit a large sum of money, you'll be purchasing the products from the suppliers when you received orders from customers. Your suppliers will drop ship, or in other words, pack and deliver products on your behalf to the customers.
It's a business model that offers a very low startup cost and one that you can start in the comfort of your home. With that said, drop shipping isn't a business that will rake in riches in a short period.
If you're dropshipping from your own website, you'll need to promote, market and generate sufficient traffic to your website. But if you're dropshipping on online retailers like eBay or Amazon, you'll need to build your accounts. In other words, it's hard for new drop shippers to get sufficient exposure and be competitive.
Personally, I've done arbitrage dropshipping on eBay, but I decided not to continue with the business after 6 months. Arbitrage dropshipping involves listing products from Amazon on eBay at a higher price. When a customer ordered the item on eBay, you would need to purchase the product from Amazon and ship over.
While I have no problem looking for competitive products, dealing with refunds or products running out of stock is a hassle. Besides, arbitrage dropshipping offers a very low-profit margin when you are a new seller on eBay.
NOTE: Arbitrage dropshipping is no longer allowed at eBay as of writing. You could, however, dropship from wholesale suppliers.
3. Freelancing
Now, I agree that it's hard to work when you have children occupying all your time. But if you're sending your children to childcare or you have babysitter helping out, freelancing is a viable option.
If you are a good graphic designer, programmer, web developer, writer or has any skills that can be done with a computer, you can work freelance within your home. And there is no shortage of freelance sites on the internet.
I personally prefer Upwork, as it is arguably the largest freelancing site on the internet. But you could also consider signing up to sites like Guru, PeoplePerHour or Freelancer.com. By consistently providing excellent results, you will establish your profile at the platform and able to win contracts easier.
Freelancing on such platforms eliminates the time you need to scavenge for companies that are looking for freelancers.
You can also expect to make a decent amount of income from freelancing. In fact, I strongly suggest working freelance from home if you're keen to make decent additional income in a reasonably short period.
As a writer at Upwork, I am able to make $20-$25 per hour. While it isn't a huge amount of money, it is sufficient to pay the bills.
If you want to kickstart your freelancing career while juggling parenting, I'll suggest you read the article below.
 How To Get Started On Upwork (And Be Top Rated)
4. Blogging
You've heard about how some bloggers are making a cool five-figure income a month while others barely see any return for their effort. In fact, most people gave up blogging after writing a dozen of articles.
Here's the reality. You can earn a decent income via blogging but that doesn't happen overnight. There are various approaches to blogging. Some people started a lifestyle blog and the write everything that is of interest to them.
Others, like me, stick to a specific niche and produce helpful articles for a targeted audience.
Either way, the key to making money with a blog is to have traffic. You can do so by promoting your blog on social media, advertisement or through SEO. Regardless of the method that you use, the blog should be unique, engaging and reflects your personality.
The next thing that you have to figure out is how to monetize your blog. Most lifestyle bloggers are to write sponsored reviews. But such sponsors often offer rewards in the form of products or vouchers. If you're looking for monetary income, you'll want to try other monetization techniques.
A common approach is to display advertisements on your blog. Google Adsense and Media.net are of the most common advertisement network on the internet. However, you'll need to have hundreds of thousands of traffic before making any significant amount with this advertisement display.
The next technique, which is my favorite is affiliate marketing. It generally requires lesser traffic and provides larger earnings when done properly.
5. Affiliate Marketing
Affiliate marketing is my preferred way of making money online. It is about directing visitors to the vendor's website through a special link called affiliate link. When the visitor made purchases within a stipulated period, you'll get a cut of the commission.
There's no need to worry about delivery, returns and customer service as the vendor will be handling all that. If you have already started a blog, affiliate marketing will be a natural transition. It is simply the process of adding affiliate links in a strategic manner on products that you believed in.
Again, I wanted to stress that affiliate marketing is not a get rich quick technique. In fact, I don't believe there is any shortcut to wealth and success online. The advantage of affiliate marketing is that this method allows you to gradually stop trading time for money.
But for that to work, you want to be strategic in creating contents, whether it is article or video. Like blogging, you'll need to figure out how to get the amount of traffic that converts. Unlike running ads on your blog, the potential of earning is higher for relatively low traffic.
I am a freelance writer, but I have not been writing as frequently for others as I did a couple of years ago. That's because my blog has been generating a decent amount of passive income to cover some of the expenses.
As a freelancer, there's a limit to how much time I could trade for money. And juggling parenting means I have lesser time than the average freelancers. This made affiliate marketing an attractive long term revenue generation model for me.
Final Thoughts
There are many more ways to make money from home as a stay at home parent. But I believe it will be unwise to spend your time testing every single one. Some, like paid surveys, are not really worth your time.
Freelancing is helpful to pay your immediate expenses. But if you are hoping for a more comfortable life with more time with your children, I strongly suggest picking up affiliate marketing. I made that choice in 2016 an enroll in this affiliate marketing program.
It's a decision that I've never regretted and enable me to live a better life today. I hope this article has helped you to discover new avenues of making additional income while looking after your little ones.
If you have any questions regarding any of the above ways of making money at home, feel free to leave me a comment. I'll be pleased to help you out.
Hey, it's Kenny here. I'm a single dad, freelance writer, an affiliate marketer. I have been making a living online since 2016, after quitting a 10-years engineering profession. When I'm not on the laptop, I'll be in the kitchen experimenting with new cuisines.