I think I couldn't be far away from the truth when I say it is the dream of every internet marketers, and business owners to get their website on the first page of Google 
A note of caution: Be wary if your SEO consultant promises you with 100% certainty that he or she is able to get your web page to the first page of Google. The right SEO practice ensures that your content is optimized to scale the search engine with a high possibility of success, but no one knows exactly the true nature of Google's algorithm or when they may be releasing their next update.
Getting on the first page of Google creates a sense of authority for your website and brand. And your website would enjoy the exponential increase of organic traffic that comes along with first-page ranking.
And when you have hordes of SEO consultant each preaching their own way of bringing your website to the top, you'll end up more confused than ever. What I can safely say is, if an 'SEO consultant' promises you ranking in 24 hours, you're in danger of being scammed.
Getting on the first page of Google takes time, and here's my exact strategies and practice that works for me.
Never Anger Google, Ever
Let's get a few things clear before we get into the real business of getting your website to rank on the first page of Google.
Rule number One: Never, ever piss Google off. Unless of course, you would like Google to unleash a horde of wild beasts to stamp your website into nothingness.
You'll be amazed to know that Google made approximately 500 updates to their search engine algorithm every single year.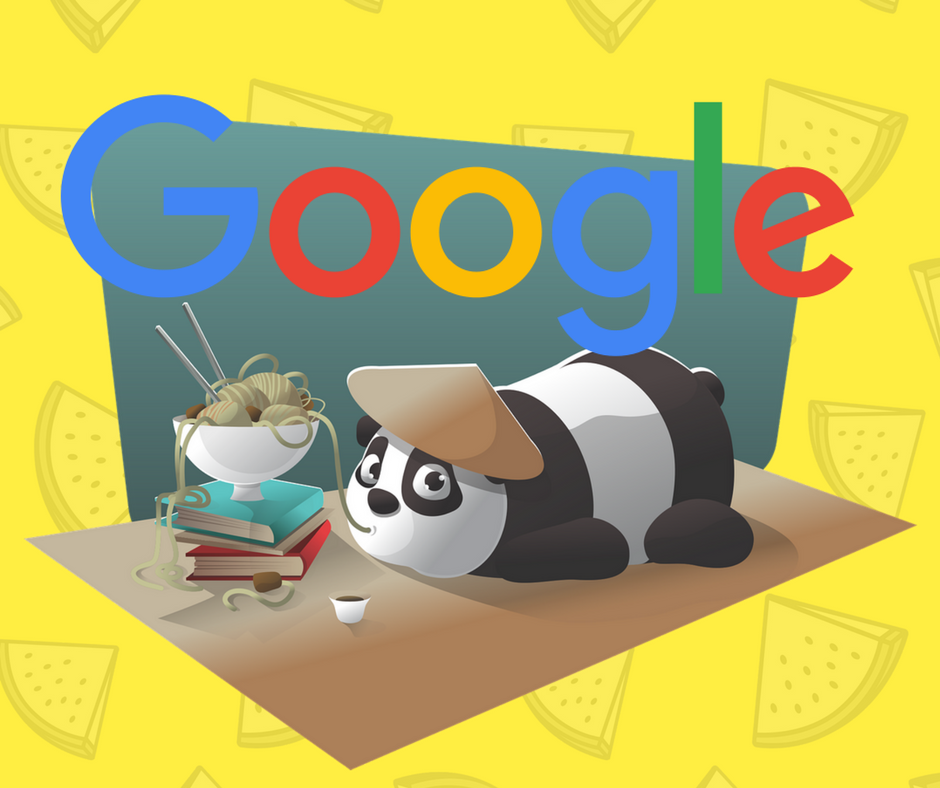 Prominent major updates in recent years come in the form of Google Panda and Google Penguin, which penalize web owners who notoriously practice BlackHat SEO.
With the Panda update, sites that used to rank high with keyword stuffing on low-quality contents got wiped off from the search result.
And Google Penguin mete out penalties to sites that were ranked with the frowned upon practice of buying links from spammy websites. Some of them never recovered.
Do What Google Loves
By this point, most articles teaching how to get on the first page of Google would have peppered you with technical details like keyword research, link building, mobile optimization or writing a colossal 5,000 words article.
The reason that I have not done so yet, is to ensure you have a deep understanding of what Google really want from your website. And it's pretty simple.
You need to understand what Google loves the most. Google loves nothing more than great, quality content that real people love.
Despite decades since the birth of Google, its main revenue still comes from search engine advertising, contributing approximately 75.2% to its total revenue in 2016.
With all the algorithm updates that Google is furiously pushing out constantly, you notice that Google is all about creating a better user experience by returning relevant, quality search results to more than 2 trillion of searches a year.
The bottom line is, always write to relevant contents that engage your audience and Google will love your site. If you can keep this in your mind, you are half way to ranking on the first page of Google.
8 Steps To Get On The First Page Of Google.
There is no secret to getting on the first page of Google. It involves hard work, consistency, and creating epic contents that your audience loves.
Here it goes.
1. Keyword Research
If you have not heard of long tail keywords, here's a simple explanation.
"A long tail keyword is the search phrase made up of 4 to 5 words. It forms 70% of search traffic and is highly targeted. "
For an in-depth long tail keywords case study, I recommend you read this article by Stas Tatarin.
The reason I like targeting long tail keywords is that users who are searching with longtail keywords are normally closer to the end of their buying cycle.
If you're hoping to catch your buyer's attention when they are about to purchase, it would be foolish not to target longtail keywords.
Secondly, you'll find that single or two words phrases are monopolized by major websites that are almost impossible to dislodge in the short term.
Instead of wasting time and effort in futile nudging giant competitors on short phrase keywords, it's much wiser to focus on smaller but targeted audience.
With 4 billion internet users and growing, you'll never run out of long tail keywords. But if you're worried, use LongTailPro to give you more ideas.
Of course, there would be cases where you think you have chosen the perfect keyword, only to find it not performing as you expected in the end.
Read this post on the 11 Keyword Research Mistakes You Should Have Avoided and you can prevent wasting precious time building content on the wrong keyword.
2. Write Quality Content
It's all for nothing when you transformed your keywords into a catchy title, only to disappoint your readers with typical boring contents littering the internet space.
Learn to write conversational content as if you're talking to your audience. There's nothing wrong with being serious about your business, but it's a sin to create corporate, emotionless content that turns off your potential buyers.
Remember that even if your business with space scientists with robotic manner, they too are human and would like to be engaged and be entertained before being lead into the more serious stuff.
Always, always write quality content for your blog and website. Quality content rules the search engine.
Alright, so you manage to put up what you believe the best-ever content you ever produced. You hit publish and promote aggressively.
But how do you know if your content is actually engaging your audience?
If you have not hooked up your website to Google Analytics, now is the perfect time to do so. Statistics such as bounce rate. pages per session and average time on your site give a good indication of how engaging your content is.
If you need further help, read this article by Lauren Kaye on creating content that's more engaging to your audience.
3. Publish Long Content
Yes. Word counts matter.
Never mind about the ever decreasing attention span of internet users. If you are offering quality content that really helps your readers to solve problems, they will fully digest your article and thirst for more.
But how long is enough?
1,000 words? 2,000 words? Or 5,000?
Unless you are Seth Godin, you shouldn't be writing 300 words blog post.
(Seth Godin's post average around 300 words per blog post. Here's what it looks like.)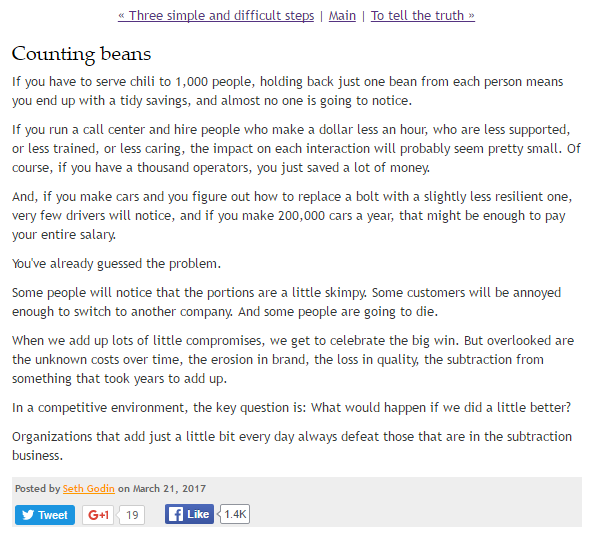 If you could only muster out blog post ranging in the hundreds of words, don't be discouraged. Keep improving your writing and by no time you'll be hitting the thousand mark.
Just don't compromise quality with the number of word counts.
In this in-depth article by Neil Patel, he mentioned that Google tends to rank longer in-depth content on the first page, of course, unless you have a high authoritative domain.
If you're still hesitating in turning up your word counts, how bout this.
"85% of Articles Online Are Less Than 1,000 Words Long" – Moz
What's stopping you from getting to the top 15%?
4. Use Quality Images
Some blogs thrive without images. But having images help.
No. Let me rephrase that, having quality images help. Because we human are attracted by visuals.
You don't want to turn your article into a personal photo book (unless that is what your website is all about). But there's no harm in adding 2-3 relevant images for your article.
If you have the budget you can get really high-quality images at Shutterstock. But if you're opting for the free solution, here's two of my favorite site to get royalty-free quality images.
You can also produce original images on your own. Simply grab your smartphone or digital camera and start taking some nice shot.
You don't have to be the world class photographer. Decent and relevant photographs are all you need. You can also improvise by adding graphic elements and themes using Canva.
Just keep the image file size low enough. Large sized files could slow down page loading time drastically. If it takes 10 seconds just to load your page, chances are your reader would hit the 'back' button by 3.
Is there an optimum file size rule you need to follow?
While there are no hard rules on this, it is best to keep your image under 70kB. You can easily resize image size while maintaining the quality by using free software like GIMP.
But if you're already running a WordPress blog with hundreds of images, it could be tedious to manually resize every single image. This EWWW Image Optimizer WordPress plugin will come in handy for you.
5. Learn Basic SEO
The word SEO sounds pretty technical. I don't blame you if you're having the impression that you have to be a data scientist to start practicing good SEO in your website.
That's exactly what I thought when I started building my first website.
Most beginners are confused and hesitant with SEO practice because doing the wrong thing could actually hurt your website.
Now, I realize that SEO is probably the easiest aspect of building a successful website for businesses or internet marketers.
I picked up SEO as I built my first website from scratch and managed to rank my first blog post on the first page of Google in 6 months.
Some part of the success is due to the Yoast SEO plugin. If you're using WordPress you should download it now. The free version of it is powerful enough to provide you good SEO indicators as you create your content.
I attended free Webinars by Neil Patel which provide more values than some paid programs.
And they are more than enough for me to start seeing organic traffic from favorable Google ranking.
6. Share your contents on Social Media
In 2016, Facebook has 1.86 billion users worldwide.  Instagram has 600 million. Twitter has 319 million.
If you don't share your contents on these social media network, you're losing out big time. Google track engagement analytics to rank your content in the search result.
That brings us to Google+. While it may not have the largest number of active users, the fact that it is owned by Google itself is enough incentive to share and promote your content on Google+.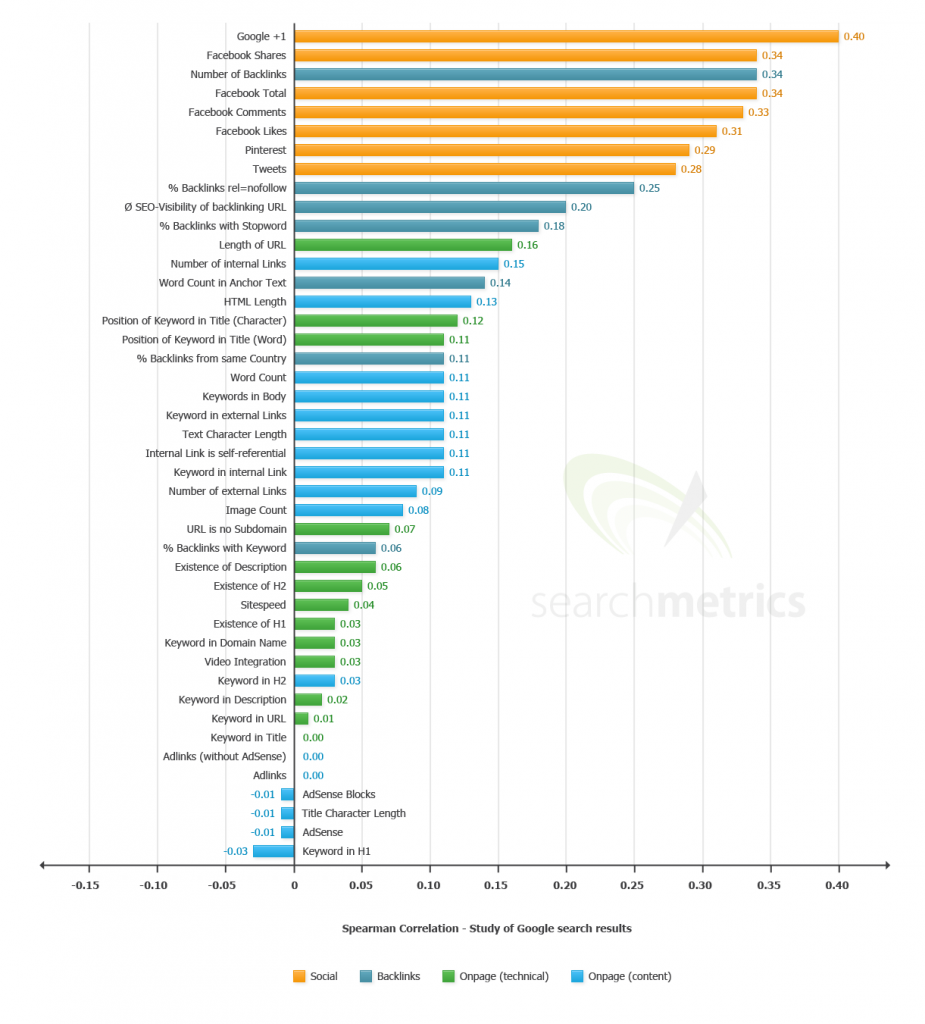 A study conducted by SearchMetrics in 2013, shows that Google+1 tops Facebook Shares as the single highest correlation factor to Google search result ranking.
It doesn't matter if you're running a personal blog or a company website, you already have a Google+ account if you're using Gmail. If you're getting serious in getting your content on Google's first page, start sharing your content on Google+ now.
Wait, what about Pinterest? In case you don't realize how powerful Pinterest is, how about 150 million active monthly users and still growing?
If your website targets women and has great visuals to share, Pinterest is the right platform to go. It's something like a social media meet search engine type of platform that's getting popular.
Focus, is the key here.
I  suggest starting with a couple of social media network where your primary audience is, else you'll get overwhelmed and getting nowhere with your social media strategy.
You'll also want to avoid the mistake of using your social media as your private broadcast station. You're missing the 'social' aspect of it. To get engagement, you have to participate and offer value to your target audience.
7. Engage Your Audience.
Wait. Isn't engagement all about sharing your content on Facebook, Twitter, Instagram, and Pinterest?
No. It's not.
Engagement is all about building trust and authority in your niche. It starts with participating in genuine discussion whichever platform you're in.
It also means that it would be wise to look beyond social media platforms.
In this case, you'll find it helpful to start building your presence in forums like Quora and Reddit.
Or if you're in the online marketing niche, you may want to head over to WarriorForum. There are probably other relevant forums, but it will be prudent to focus on your engagement effort.
Just because you are publishing content online doesn't mean you should limit your audience engagement activities to online platforms. You're missing out opportunities if you don't start offering great values when you're attending weekly meetups or networking event.
Read more about how engagement relates to Social SEO here.
When your website is actually engaging your audience, it will translate into meaningful analytics signal. And naturally climb its way up in Google's ranking.
8. Get Great Comments
You're doing great with contents and getting shares and retweets. Why do you need blog comments?
There's been contrasting view on getting blog comments but I hold on to my emphasis on getting blog comments for a few reasons.
First, it doesn't hurt your effort in ranking favorably on Google, as long as you're getting quality comments that add values to your content itself.
Quality blog comments often resulted in strong analytics data indirectly such has higher time spent on your page and possibly multiple pages per session.
You'll also want to look beyond pleasing the search engine with blog comments. When you're starting a blog, comments show strong interaction with your readers. And new visitors are more likely to be part of an existing conversation.
You could get new contents idea based on existing thoughtful comments from your reader and personally contact your reader once published.
I won't go into details yet of the many ways to get blog comments, but I got started with participating in a very active comment exchange forum.
Wait, What About Link Building Strategy?
As much as I've been a fan of Brian Dean of Backlinko, who is absolutely the best when it comes to link building, I must confess that link building has never been my primary strategy in reaching the first page of Google.
I'm not dismissing the value of a quality backlink.
It's just the fact that as a new website with think content is difficult to attract high-quality backlinks from authoritative sites.
So, do you need link building to get your content on the first page of Google?
The short answer is no. Although I would like to acknowledge that quality back links do help when you are targeting high competitive keywords.
That said, if you're getting started on your website, I'll suggest you forget everything about chasing backlinks and focusing on great contents and promotion.
Because you'll need something great to be linked to. Agree?
What Else Do You Need To Get On The First Page Of Google?
If you felt that I may have left out something important, you are probably right.
Patience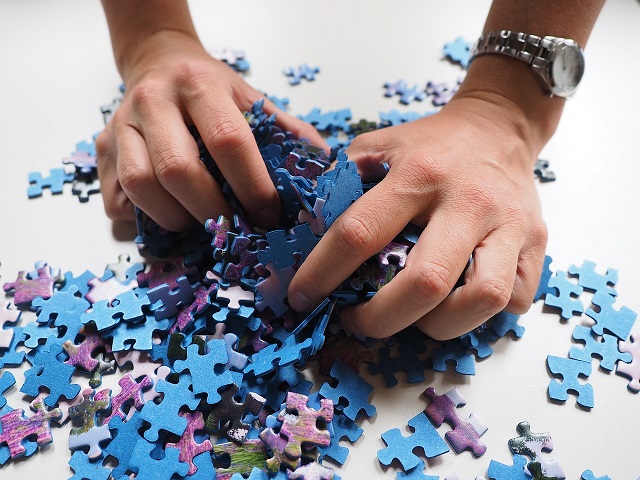 You need to have patience, as in reading until the end of this article and get the last chunk of the guide that I'm sharing.
If you're expecting overnight success with your Google ranking, you'll be in for a disappointment.
Most SEO companies would commit you to a minimum 6 months before getting any real results with a targeted keyword.
I wouldn't argue otherwise.
When you have the wrong expectation, you'll be tempted to BlackHat SEO practice like buying backlinks.
Don't.
You could be wiped off from Google's result completely. It's so not worth it.
Consistency
Here's where you should get it right.
If you hit publish and take a vacation for the next 6 months at your favorite beach, you will never see your post anywhere on the top when you're back.
Your audience expects consistency from you. And so does Google.
It's all about how much your site is being trusted by Google (and your readers). You can do that by scheduling your content and strictly adhering it.
It doesn't matter if you're publishing every single day or once a week, consistency is the key.
It took me close to 40 posts before seeing favorable results.
Check Is Your Site Indexed?
In order for your content to get anywhere on Google's result, you first need to get your site indexed on Google.
You don't need any expensive software to do that, and most sites that provide tools will often say your site is not indexed (when it actually is) and start suggesting you fork out some money for software you don't need.
Not really ethical if you asked me.
Here's the simple, free way to check if your site is already indexed by Google.
Simply type "site:[domain]" in Google search engine.(without the quote)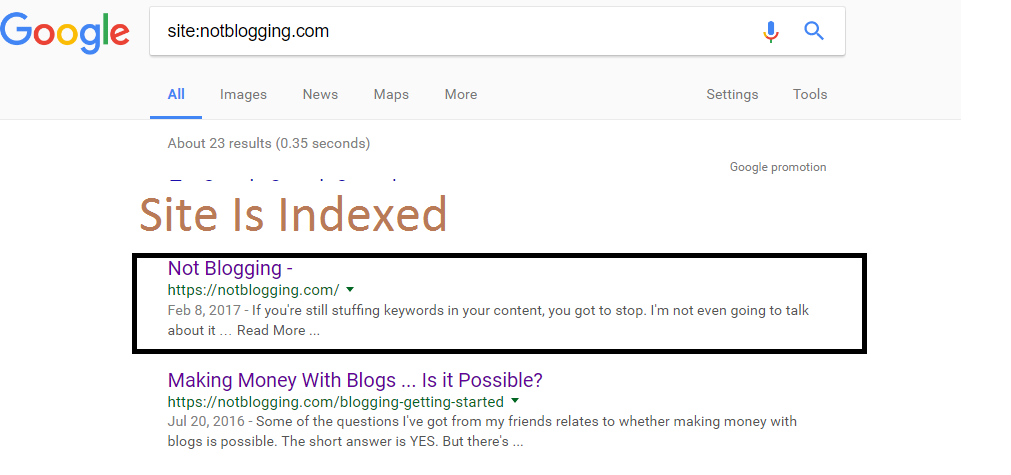 If your site is listed, then it's indexed.
If it's not, then you can manually submit your site to Google Search Console. Read this helpful guide from Google.
What Now?
I have an obsession with how to get on the first page of Google. That you probably have realized.
Now it's really up to you to get started and start writing awesome content and rank them as well. Regardless of the nature of your business, it doesn't hurt to land on the top of what people are searching.
If you like what I've offered so far, do share it on Facebook, +1, Tweet it or Pin to your favorite board. 
If you have any questions do leave them in the comment below. The same goes for any suggestion or tips that you would like to share. 
Hey, it's Kenny here. I'm a single dad, freelance writer, an affiliate marketer. I have been making a living online since 2016, after quitting a 10-years engineering profession. When I'm not on the laptop, I'll be in the kitchen experimenting with new cuisines.