I guess you're hoping to check out if Lead Flow 247 is a scam, or will it truly inject new lead to your online business.
Digital marketers of all types are obsessed with leads. That's because leads that convert brings revenue to the business. Lead Flow 247, which was launched in late January 2020, sounds promising.
After all, who doesn't want a constant stream of prospective buyers for their marketing campaign.
But, does Lead Flow 247 deliver? Or is it one of the many shady programs on in the lead generation market? Let's unbox the truth.
What Is Lead Flow 247?
Name: Lead Flow 247
Owner: John Valley / Donald Mc Clendon Jr.
Website

: leadflow247.com

Price: $100 / month
OutrankLab Rating: 5/10
If you've checked out Lead Flow 247's website, you'll be greeted by a video that explains on how it operates. Basically, Lead Flow 247 is a service that automatically send leads to your contact list.
The program is created by John Valley and Donald McClendon Jr.

Lead Flow 247 charges $100 per month, or you can sign up for $997 per year. However, you'll need to check out it's refund policy, because you can't get any of your money back once you log in into your account.
Upon subscription, you'll have access to a dashboard, where new leads are added every hour. There is no indication of the number of leads supplied but members are reporting between 17 to 60 leads a day.
You'll also be given access to advertising traffic rotators and pre-built sales lead pages, where you can drive the leads to. Members are also provided 3rd party autoresponders to email the leads.
The idea is to have an automated system of sending automatically-acquired leads into the funnels (lead pages, traffic rotators) and convert them into paying customers.
But, does it really work?
What Other Reviews Are Not Telling You About Lead Flow 247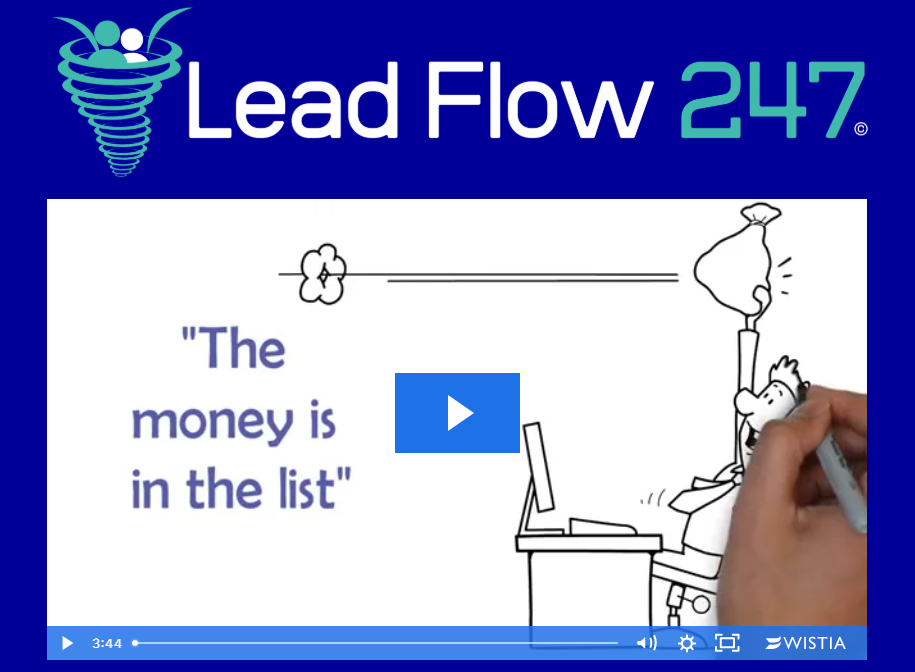 You'll get your leads with Lead Flow 247 as there's little doubt about that. Lead generation programs isn't something new in the digital marketing industry.
Some marketers are comparing the similarity of Lead Flow 247 to My LeadGen Secret.
These programs are basically a system that provides personal details like name, email, and phone number to feed into marketing campaigns.
Non-Targeted Leads Have Poor Conversions
I've seen a couple of 'insider videos' of how the leads are added onto the member's account. I'm not questioning that.
You've got the emails, but can the leads convert?
The reason that I'm highlighting this point is that none of the reviews that rank Lead Flow 247 highly, talks about the conversion rate and profit.
If you've been in digital marketing for a while, you'll realize that it all boils down the ROI. As far as I'm concern, channeling a batch of random leads into a pre-built sales page isn't going to give you high conversion rates.
It all depends on luck, than a systematic approach of marketing.
You have no clues of the interests of the 200+ people in that email list that you're marketing to. You're praying and hoping that someone actually buys into your offer.
Not the brightest way to create a sustainable online revenue. A quality list always triumph quantity.
Buying Email List Can Be Illegal
Did you ever heard of the CAN-SPAM act?
Because if you don't, you ought the check it out, particularly in the penalty of harvesting email.

Here's why you ought to be concern before emailing any of your leads in Lead Flow.
The emails are generated by a randomizer.
The emails are taken from a site that states it wouldn't sell or pass the information to a 3rd party.
If it's proven that you've violated the CAN-SPAM Act, the penalty is pretty harsh. Each email that you've sent to may result in $43,280 of penalty.
That's quite expensive, don't you think?
If you wanted to avoid the legal implications of sending emails without the recipients' consent, I'll suggest building a long term online business.
It's more affordable and sustainable too. Here's where I've picked up the skills to build my email list.
The Generous 50% Affiliate Commission
It's not surprising that a program like the Lead Flow 247 has an affiliate program. It allows subscribers to easily earn commission by getting new signups with their links.
The program has a quite lucrative commission of 50%. This means if someone signs up through your link for a monthly $100 subscription, you'll be getting $50.
So, it wouldn't be surprising if you read tons of reviews harping about how effective Lead Flow is. It's also possible that some of the members are making more money promoting the program itself than monetizing the leads generated by the system.
I'm not saying promoting Lead Flow 247 is wrong.
Instead, I'm skeptical about the true value that the program offers.
You Can't Import The Leads To Notable Autoresponders
After a couple of weeks, you could have 200+ leads sent to you on Lead Flow. While you can download the list into a .csv file, you can't upload it into autoresponders like Aweber, Mailchimp, and GetResponse.
Any attempt to do so may result in your account being banned.
Why?
Because it isn't right to send emails to a list that isn't yours. It's a strict rule for premium autoresponders.
Instead, your option is to use the 3rd parties emailer like SendGrid. Guess what, you could be forking out more money because SendGrid charges $14.95 per month if you're sending to more than 200 leads per day.
It's quite easy to hit the limit with the number of leads being added by Lead Flow.
This is why, I'm emphasizing on building a high-quality email list that is aligned with your offerings. You get to minimize the cost while having a higher conversion rate.
Verdict: Is Lead Flow 247 A Scam?
The program promises daily leads for a fixed amount of money. It delivered.
No mentions are made that you'll make any profits. Nor a minimum number of leads that you'll get.
Therefore, it's not a scam.
However, I can't say that Lead Flow 247 is a high quality program, particularly at $100 per month. It has been over-emphasizing on the importance of an email list.
Little is said about engagement, and quality of the list.
If you're hoping to try your luck to market the leads that has little interest of buying, feel free to do so. But, let me remind you that sending emails to a list that's not yours may be illegal.
Or, you can learn to start building an online business that generates traffic on its own, at half the cost of Lead Flow 247. I've been doing exactly that for 4 years.
Check out this program that has taught me everything about generating online revenue from scratch.
My #1 Recommendation (Free Access)
Hey, it's Kenny here. I'm a single dad, freelance writer, an affiliate marketer. I have been making a living online since 2016, after quitting a 10-years engineering profession. When I'm not on the laptop, I'll be in the kitchen experimenting with new cuisines.