Make more than $1,000 daily? Is Explode My Payday A Scam or your gateway to financial freedom? I'm glad that you're reading this review before parting with your hard-earned cash.
I usually try to give make money online programs a fair chance before delivering my verdict.
But not with Explode My Payday. It's a scam. Period.
If you're new to the make money online world, you've probably missed all the obvious red flags during the 20 minutes or so presentation video. In this review, I'm going to expose the lies that are professed to you hoping to suck your money away.
When I'm done with that, I'm going to show you the real way of building a sustainable business online that is built on honesty and trust.
What Is Explode My Payday
The name itself is suggesting that you'll be living a care-free life of financial freedom after signing up for this program. Regardless of you stumbled on the landing page of Explode My Payday, you'll be brought to a 10 minutes video promising a daily $1k paycheck before asking you to submit your email.
Don't do that. Instead, check out what I've found out about the Explode My Payday.
Here's a quick summary of the program.
Name: Explode My Payday
Owner: Meagan Harper
Website: www.explodemypayday.com
Price: $47 (with upsells of $195 + $99)
OutrankLab Rating: 1/10
Explode My Payday is presented as a make money online opportunity that promises to make you at least $1,000 daily without doing much work. In fact, the first video makes it sound so simple in the sense that you can make much money after spending 15 minutes setting up a system.
The video starts with a series of testimonials by certain individuals claiming to have massive success with Explode My Payday. You're then given the cover story of how the owner, a Meagan Harper is expanding her online business and is recruiting more members for her team.
To coax you into submitting your email address, you're given a perception of the exclusivity of the program. The owner stressed that the video will be taken down anytime and there's a limited seat in her team.
Except, the video won't be taken down anytime soon. Not today, and not tomorrow. It will remain there as long as people are foolishly submitting emails over.
What Happened After You've Submitted The Email Address
The first video talks nothing about how you're going to make money or how much it does it cost. Instead, Meagan stressed that she's not asking for your money nor any commitment on your part.
You'll find that this quickly changed after you've submitted your email address.
After giving away your email, you'll be brought to a 2nd page, and with another video. This video again stressed that you can make $1,000+ daily within 24 hours after spending 15 minutes setting up the proprietary Explode My Payday system.
The video is peppered with screenshots of bank accounts, Paypal transactions, and affiliate dashboard, which attempt to convince you that it is possible to get rich quick using the program.
The owner is being vague with how the Explode My Payday program works, except stating that it has an automated system that draws 90% of traffics from popular search engine and social media to your portal.
And by saying 'your portal', it is indicating a portal built and owned by the platform.
You're then being presented with a 'live demo' of how quickly you can make hundreds of dollars within a couple of minutes. I can't help but saying this is the most obvious giveaway of a scam in progress.
After a series of a sob story by the owner, stating how she needs you to make money for her business to grows and how it is all about helping others to achieve financial freedom, you'll be directed to an offer of $47 to join her team.
Wait, didn't Meagan mention that she's not asking you for money in the first video?
Regardless, I urge you not to pay $47 for this program. I'll explain why shortly.
What's In Explode My Payday and Why You Shouldn't Pay For It?
The second video gives you an impression that you have an online business setup and all you'll need is to pay for a change of ownership. And you're on your way to make $1k daily?
Except that won't be happening to you.
The concept that is vaguely touched on in the video, and painted as a get-rich-quick strategy is called affiliate marketing. While affiliate marketing can generate thousands of dollars a day or more, it doesn't happen overnight.
No automated system can deliver 96% of the internet traffic to your website or portal. That's a blatant lie to deceive people who are oblivious to how affiliate marketing works. It takes time to build traffic, whether you're using SEO, social media or other types of traffic generation methods.
So, what happens after you pay $47 to get into this porta?
You'll be greeted with a couple more upsells, which will set you $294 further in your bank.
That's a total $341 spent and not a step closer to making $1,000 the next day.
Explode My Payday Scam Red Flags
I'm labeling Explode My Payday a scam but I'm not doing so without proof. Check out the obvious red flags that I've uncovered while watching both of its videos.
1. Fake Testimonials
Make money online programs often use testimonials to establish trust with unsuspecting users. Have a few people talking to the camera and claiming how they have been making easy money and some individuals will be convinced.
Unfortunately, such tactics are easily exposed.
For instance, check out this Megan Elizabeth who's making $1K plus and try to convince you to join the program.
She sounds convincing because she's a professional video spokesperson who's active in Fiverr. Check out the screenshot below, and tell me if she's the same person.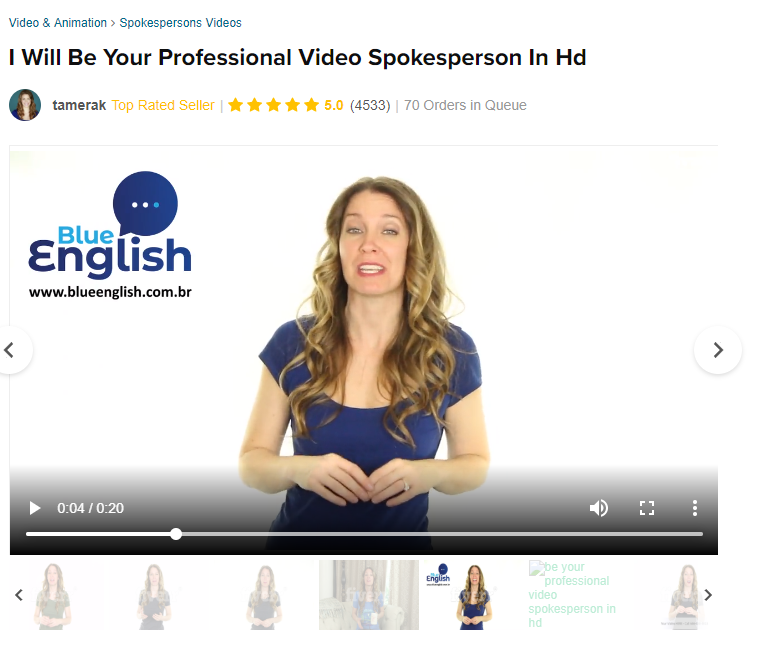 How about one Leanne Bakker who similarly claimed to be making easy money with Explode My Payday?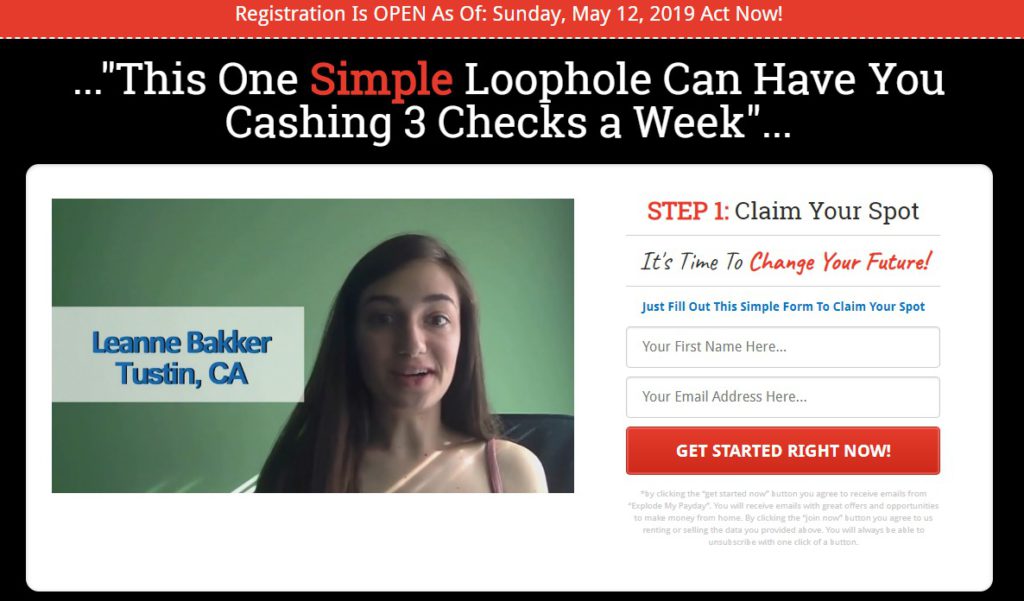 Well, I've found her on Fiverr too.
It only cost as low as $5 to get a professional spokesperson to create similar testimonials and it's a strategy commonly employed by making money online scams.
2. Fake Owner
It's bad enough to have fake testimonial delivered by freelance actors. But when the owner is non-existent, how could you trust such a program? Explode My Payday is claimed to be founded by Meagan Harper and there's a photo of a lady in a kayak.
You're led to believe that the lady is the owner and she's probably having a great time because of the thousands she's raking in a day.
It isn't hard to find out that Meaghan Harper is a made up name and the picture is obtained from Shutterstock.
Busted. There's no Meaghan Harper. And I'll bet a fortune that the voice narrating the video is from a hired freelancer too.
3. Fake Income Claims
In the second video, the owner said that your portal has been set up and is currently ready to make money for you. To convince you, you're given a different snapshot of the income report and how the income increases by a few hundred dollars in a couple of minutes.
Here's the first screenshot, where 'your' account has made $240.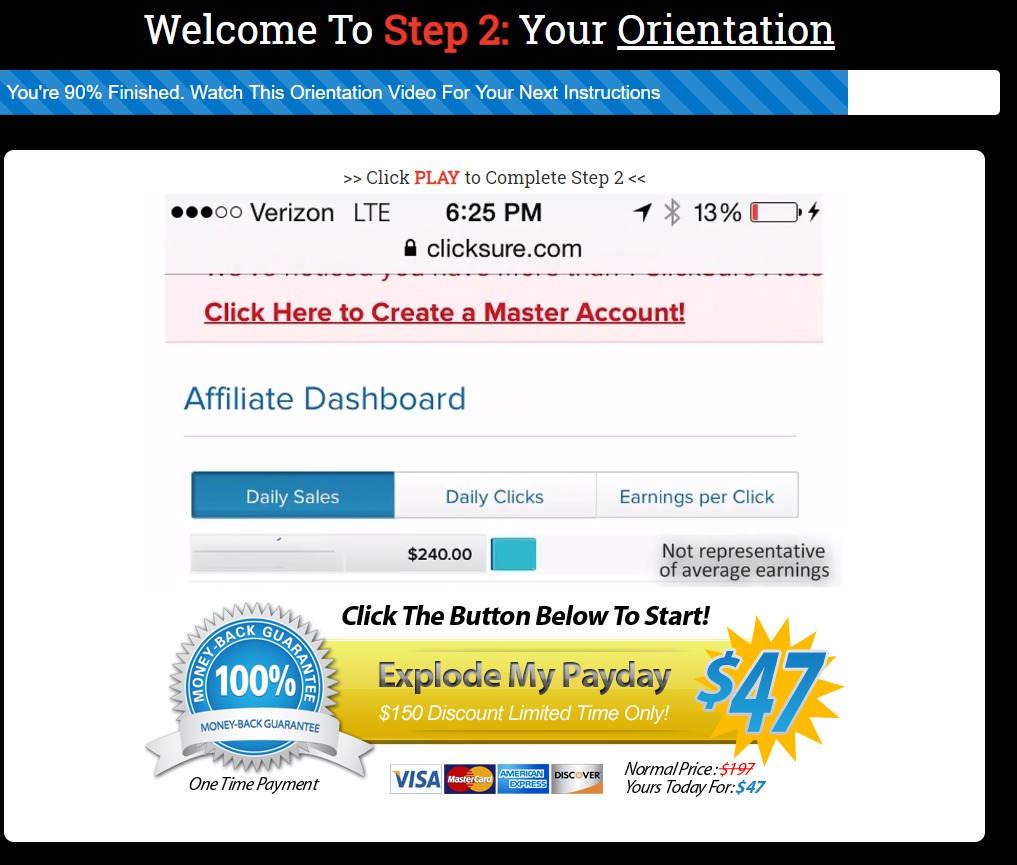 Here's the second screenshot, and the figure increases to $625.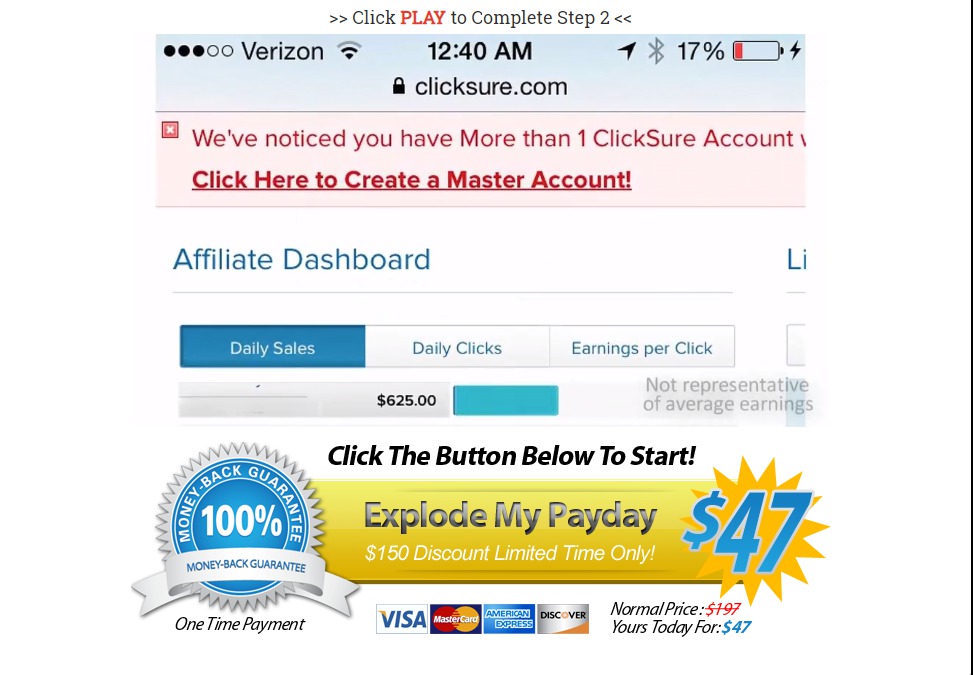 Now, everyone would be glad to make $385 in just a couple of minutes. But take look at the time from the screenshots in the video. The first one states 6.25pm and the second is taken at 12.40 am. Does that seem to be 'a couple of minutes'? In fact, I'm doubting that the increase in earning happen within the same day.
4. Unrealistic Claims
Explode My Payday rubbed on the pain points of typical internet users. It preys on people who're seeking an easy way out of the daily 9-5 grind and promises an escape with a so-called proprietary system.
You're being told that you can make $1K daily by putting minimal effort. To quote the owner, even cavemen could succeed with this system. But if you take an objective view of the entire video, there is no proof that such earning is possible within a single day.
There are snippets of bank accounts and Paypal but there isn't a chronology of income report with detailed earning, transaction and irrefutable timestamps.
I'm not claiming that the Paypal figure is fake. In fact, it is entirely possible to generate wealth with affiliate marketing. The problem is, it takes time to build up such income. So, don't be tempted by the figure and falls for the lies.
Is Explode My Payday A Scam?
I'll say it loud and clear.
Explode My Payday is a scam, although a poorly crafted one. Experienced internet marketers will easily see it for what it is and stay away from it. Take my word, it's not worth spending 385 for this program.
It's not worth to spend even $47 to take a sneak peek into what Explode My Payday is all about. There isn't an automated cash cow waiting there for you. All those stories about how you're wanted as a business partner is a lie.
For now, keep that money to yourself and I'll tell you a not-so-secret of how I'm making money online on the internet.
Can You Own A Profitable Online Business?
While Explode My Payday is a scam, owning a profitable online business is very possible. I've been an affiliate marketer for the past 3 years and have built my own business on the internet. Such businesses often come in the form of websites where affiliate marketing is the primary business model that generates income.
The reality of making an online business profitable is that it requires hard work. There is no route to quick money on the internet. Like physical business, you'll need to work your way to success and it can be particularly tough during the initial phase.
However, the advantage of growing your business online is that it is considerably cheaper to get started and you can adapt to change easily.
Instead of investing $47 on a program that is built on fake testimonials, fake owner and fake claims, you will have a better chance of succeeding with this internet marketing program that I've joined for 3 years.
It is owned by a couple of experienced online entrepreneurs. Yes. They are real people whom you can connect and socialize within the program and social media. What's even better is that there are no upsells that continue to drain your money without providing anything substantial.
The online marketing program that I'm talking about provides all the tools you have to kickstart your online business. It doesn't promise any quick success but provides a supportive environment for you to grow.
What's even better is that you can sign up for free and have access to all the premium tools for 7 days. So, save that $47 and click here to join my team.
PS:  either way, stay away from Explode My Payday.