The notion of having an automated robot taking care of money making for you is tempting. At least that's what Auto Chat Profits claim it can do for you. Is Auto Chat Profits a scam? Or are you on your way to financial freedom with a built-for-you income generating software?
I'm always skeptical when I come across affiliate marketing programs that make bold promises of how you can leverage on their systems and make quick money overnight. And when I stumbled on Auto Chat Profits, it kinda triggered some red flags of a scam.
While it lacked the usual fake testimonials or poorly concocted lies, claims that you're able to make money without much effort warrants cautions. I decided to dig up more about this program and here's my review of the Auto Chat Profits.
What Is Auto Chat Profits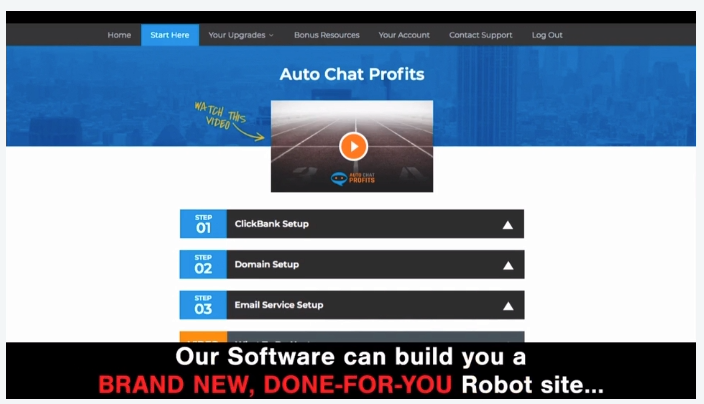 Unlike some shadier online money making programs, Auto Chat Profits is pretty clear about what it is and how it helps you to make money throughout the entire 20 minutes video. It is a platform that enables you to make money online using built-for your website, automated chatbot, and an autoresponder.
Name: Auto Chat Profits
Owner: Unknown
Website: autochatprofits.co
Price: $47(with multiple upsells)
OutrankLab Rating: 4/10
The Auto Chat Profits program helps the user to generate online income with affiliate marketing. It leverages on marketing digital products found on Clickbank. Clickbank is a popular marketplace for affiliate marketers, although its reputation has come into questions in recent days, no thanks to the number of scams hosted on it.
Credits must be given to the presenter on the video as she has brilliantly pointed out what affiliate marketing is all about. It's about directing online users to a product vendor using an affiliate link and making commission from purchases made.
How Auto Chat Profits Work
You're brought to attention that the affiliate marketing is a multi-billion dollars industry and how Amazon has paid millions to its affiliates each year. These are valid facts that make affiliate marketing an attractive industry an also a potential passive income generator for you.
After being teased about using a secret robot and how you can start making money in 6 minutes and 14 clicks, you're brought to a demo of how Auto Chat Profits work. It is basically a membership portal that allows you to set up a domain and website.
Auto Chat Profits is also built with a chatbot, which is what the rage is all about, to engage with people. The aim of the chatbot is to send offers from ClickBank to them and to obtain their email address for an email list.
Once you have a sizeable email list, you can market to them over and over again and generate a handsome income from it. This is a classic but effective email marketing strategy.
Auto Chat Profits also recognizes that traffic is important when it comes to affiliate marketing. Regardless of how attractive your offer is, you'll need real human visiting your site to start making a commission.
The program recommends using solo-ads to drive traffic to your site. If you're wondering what solo ads is all about, it's paying individuals with a list of emails for advertising your products or services. It is a tactic that's really borderline in terms of marketing ethics.
You can get a deeper look into what solo-ads is all about here.
What Auto Chat Profits Is Not Telling You
A built-for-you website, an interactive and solo-ads for getting the traffic. It all sounds good to make your first $400+ day after setting up your portal in 6 minutes. In fact, it almost sounds too good to be true.
Is there something that you ought to know but is intentionally left out during the presentation?
Yes.
First of all,
1. Your Success Is Not Guaranteed!
Look no further than the Income Disclaimer at the bottom of its landing page.

For all the promises made in the video, you may not be making that $400+ overnight. As lucrative as making money in affiliate marketing can be, there is no overnight success, automated robot or not.
Bold promises are classic tactics used by marketers to attract unsuspecting users to sign up for their programs.
2. Solo-Ads Is Not A Fail-Proof Traffic Driving Method.
The idea of leveraging on someones else email list sounds brilliant. But is there a way of guaranteeing high click-through rate and subsequently conversion? Not every email lists are targeted, responsive and have a high purchase intent.
Even affiliate marketers building lists are constantly trying to work on getting more engagement with their lists.
It's a convenient idea that triggers our lazy instinct because building traffic to a website is a chore. It involves time or money, depending on which technique you use.
3. You Don't Have Total Control On Your Website
When you sign up to Auto Chat Profits and set up your website on its portal, you're allowing the platform to automate every process. While not bothering with the technicals is convenient, you're also surrendering control of your website to the owner.
An income earning affiliate marketing website is a precious digital asset. You'll want to know for sure that you're the 100% owner of the website and you have control over it. The online money making industry is a volatile one and it's foolish to expect a program will be around forever.
Even MOBE, a highly publicized online business coaching scheme that has the backing of some super affiliates has been shut down by the FTC. You'll want to be careful of where you build your digital assets a.k.a. website.
At the very least, you'll want to know who the owner of Auto Chat Profits is.
What I Like About Auto Chat Profits
Despite some questionable marketing tactics and dubious claims, I do find some good points with Auto Chat Profits.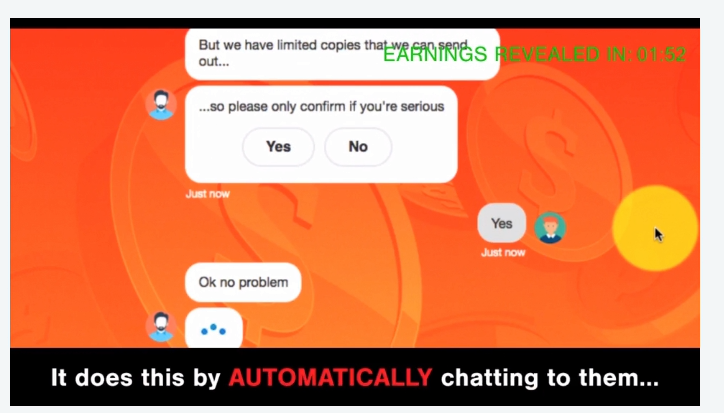 For a start, it doesn't direct you to a series of low-quality PLR books after paying $47. There is an exclusive member-only portal that allows you to set up a website that allows you to build an email list using its auto chatbot.
Yes, the auto chat bot actually exists, and that's pretty cool by its own.
There are also tutorial videos helping you to set up the website and get things running.
Also, credits must be given to Auto Chat Profits for the blog articles on email marketing which are pretty useful for newbie marketing beginners. After all, the money is indeed in your list. Having your own email list is crucial if you want to make it big on the internet.
Overall, the platform and its accompanying tutorials are respectably developed.
What I Don't Like About Auto Chat Profits
There are some parts of Auto Chat Profits that irk me as an affiliate marketer. Without these 'questionable tactics', Auto Chat Profits may actually fall on my good side.
1. It is not Transparent
I am usually skeptical of programs that don't reveal their founder. No, Samantha Smith isn't the owner of the program. And it seems the entire individuals working behind the scene are clouded with secrecy.
When you've invested in an affiliate marketing program, you'll want to know who your mentor or coach really is. That's basic accountability.
2. Unrealistic Promises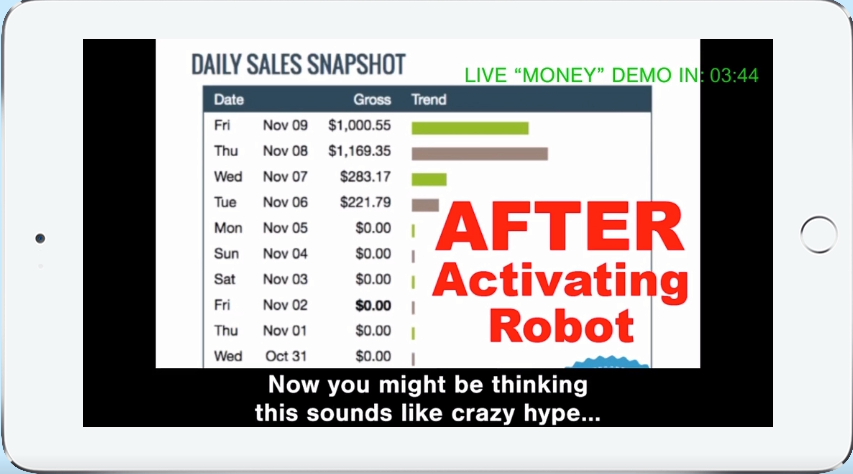 It's everyone's dream to make $400 daily without putting much effort and Auto Chat Profits is leveraging on this. It uses screenshots from the Clickbank affiliate dashboard which seems quite legit.
The only problem I have is the strong claims that you can make such an amount after spending 6 minutes setting up your website.
No one can promise you the same result unless you're using exactly the same website, setup, and traffic. And this means the exact source of traffic that the owner is using. And if you recall, the owner has already suggested that such results are not typical and there is no guarantee of that in the Income Disclaimer.
3. Be prepared for Upsells
Any programs that are loaded with Upsells, optional or not, must be taken with a pinch of salt.
Auto Chat Profits have not one, but 3 upsells when you've paid that initial $47.
While the upsells are entirely optional, you'll need to fork out another $481 if you take up all the offers. And that's still not a guarantee to making $400+ a day.
Is Auto Chat Profits A Scam?
In the strictest sense of a scam, it's not.
For $47, you have access to a portal that allows you to leverage on its chatbot technology and have a website built for you. You may also find some of the tutorials on email marketing helpful to kickstart your career as an affiliate marketer.
With that said, it isn't the best affiliate marketing programs around. And all that unrealistic promises takes it down a notch or two.
You just can't expect an automated software to rake in riches for you. The internet may be a wonderful place and you'll have the information brought to you in a single click. But that doesn't apply to success or wealth generation.
Like the brick and mortar world, you'll need to work hard for it, at least in the initial phase.
Is There A Better Way To Make Money With Affiliate Marketing?
I was never comfortable with the idea of building my digital asset in other's infrastructure and have no full control of it. Neither was I intrigued by the use of solo-ads as the sole traffic generation strategy.
I believe that the best traffic is free traffic and that originates from search engines like Google. Free traffic often has the clearest user intent and converts well. Also, I prefer to work with a coach that is not anonymous, whom I can connect to in real life medium like Facebook.
As for paying $47 to test out an online generation tool, I'll give it a skip. The same goes to the multiple upsells.
If you're looking for a risk-free option to learn about affiliate marketing and build a profitable website in the process, you'll want to check out this affiliate marketing training program that I've joined since 2016.
I went for a total newbie to having a profitable website that more than pays for my daily expenses. I'm not going to lie to you and say that it's easy. You'll need to go all out for it but when you start making online passive income, you'll feel that it's worthwhile.
Besides, if you join through this link, you'll be assigned to my team, and receive pointers from me to shorten your path to success.