Freelancing is fraught with challenges and getting scammed is one of them. When you've heard of Upwork and the tempting opportunities it offer, you could be wondering if it's another scam in the making.
There are endless tales of freelancers getting cheated on their payment. It's natural that you're worried about getting scammed at Upwork. Whether it's Upwork or clients using the platform, you couldn't shake off the suspicion.
I've been working as a freelancer on Upwork for 5 years and I'm in the best position to address you on this issue. First, let's quickly go through what is a scam.
A scam carries the same definition of a fraud or a dishonest scheme. In the context of Upwork, it may suggests that the platform promote or support fraudulent activities that could rob freelancers of their hard-earned money.
Upwork Is Not A Scam And Why
I'll lay it down clear and simple. Upwork is not and never a scam.
Upwork is a portal that connects freelancers and clients. It acts as an intermediary where it handles the marketing effort so that freelancers don't have to.
The platform also provides the necessary billing, reporting and time-tracking tool, so that freelancers can focus on what they do best. If you've been freelancing for a while, you'll realize how tedious it is to keep track of earnings and invoice your client at the end of the month.
Upwork does that for you and more. It has an escrow that stores the deposit from a client which will eventually be released to you, when you've completed your job.
The process is easy. Send payment to submit a request and your client has 14 days to raise a dispute or request for a rework. If the client does not respond within the period, the fund is automatically released to you.
It's a much safer way than ending up with clients who refuse to pay in the traditional method.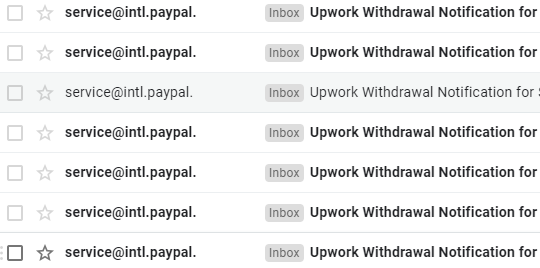 As you can see, I've been having no issues receiving payment on Upwork. So, Upwork isn't a scam in any sense at all.
Yet, You Could Still Bump Into Scammers At Upwork
Now that we're clear that Upwork is not a scam, does this mean you can let your guard down when you're bidding jobs at Upwork?
Absolutely, NO..
Of the hundreds of projects that I've done at Upwork, I was scammed at least a couple of time. These are unscrupulous clients preying on newbies on the platform and hope to get jobs done for free.
Here are 2 cases that I've encountered
Scam Case #1
It was a job where the client insists on taking the discussion outside of Upwork (which isn't really encouraged). The job involves writing a series of articles and get paid after that.
I was suspicious that no payments are mentioned after 2-3 articles done and I raised my concern with the client. That's when the communication went silent and I realized I was scammed.
Scam Case #2
I've wisened up after the first incidence and I thought I would have spotted the red flags from far off. Still, the 2nd case took me by surprise.
It seems like a legit job from the start. An article for $100. The client deposits $50 on the escrow and I've delivered the job. Then, the client stop responding to my messages.
It wasn't until a month later that the client is responding with excuses of not sending the remaining of the fund. I've got the first $50 but there isn't anything that I could do for the balance $50.
How To Spot Scammers On Upwork?
In a way, I'm pretty much blessed. Writing a few articles only took me 4-5 hours at most. That's the amount of time that I've lost due to the scams.
If you're a designer or a programmer, it could take a day or two to deliver a project worth a few hundreds of dollars. The impact of getting scammed is greater for you.
You'll want to learn how to spot scammers hiding between genuine clients at Upwork. Here are the red flags that you should look for.
Red Flag #1 – Taking Jobs Out Of Upwork
If the first thing that the client do is to suggest taking the job out of Upwork, you'll want to stand firm and insist on using the platform. Taking out the job out of Upwork voids any protection for a freelancer.
It's understandable that some clients may do so, because of the fee charged by Upwork. (Upwork collects fees from both freelancers and clients).
However, for your first project, insist on working it out on Upwork. It allows you to ensure that the client is genuine.
Red Flag #2 – Refusing To Deposit Into The Escrow
You'll want to be on the alert if the client refused to deposit the payment into the escrow. If you're taking a job under such a circumstance, you risk delivering work without receiving any payment at all.
Some clients may be cautious of committing to payments before the job is delivered. However, Upwork escrow is a mechanism that ensures the fund is released when the client is fully satisfied with the deliverables.
There is no strong reasons for a client to refuse depositing into the escrow, particularly on the first project.
Personally, I always insist on getting 100% deposit on the escrow before starting a new job. If a client has proven to be trustworthy, arrangements can be made to ensure the payments are done in batches.
Here's how to check if the fund has been deposited into the escrow.
When the client has deposited the fund into the escrow, you'll get a message that the "Client has activated the milestone". The keyword is 'activated.' If it only shows 'updated', the escrow is not funded.
Red Flag #3 – Required Tasks Is Different From Job Description
Some scammers use an interesting job description to attract freelancers. However, the freelancers are then required to take on tasks that are very different from what's stated.
You'll want to be cautious on taking such jobs, and always ensure that deposits are loaded to the escrow.
What Should You Do When You Got Scammed At Upwork?
I can relate to the frustration of getting scammed. However, if you've got all the conversations that Upwork and the money deposited on the escrow, you are totally protected.
If a client stopped responding or refuse to release payment without valid reasons, you can raise a dispute with Upwork or contact the customer support.

At the moment of writing, the 24/7 live chat is only available for top-rated freelancers. Read this guide to learn how to be a top-rated freelancer.
The customer support will verify your claims against the conversation recorded in on the platform (which is why it's important to use Upwork's messenger).
When it's proven that the client is in the wrong, the fund is immediately released to you. Alternatively, you can submit a formal request from your contract.

Click on the Submit Work for Payment button and the fund will be released after 14 days if the client remains unresponsive.
Bottom Line
Upwork is a legit platform that connects freelancers with clients. It isn't a scam. However, you need to be cautious as there are scammers trying to get a couple of free jobs from freelancers.
With that said, scammers are operating anywhere. Upwork's escrow and dispute management system makes it a safer place for freelancers.
You May Be Interested
Hey, it's Kenny here. I'm a single dad, freelance writer, an affiliate marketer. I have been making a living online since 2016, after quitting a 10-years engineering profession. When I'm not on the laptop, I'll be in the kitchen experimenting with new cuisines.